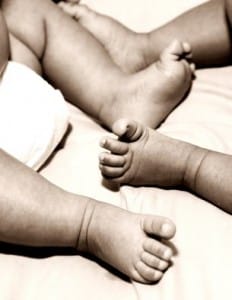 A pair of conjoined twins that were found abandoned under a bush with their date of birth written on a slip of paper, have been successfully separated.
The babies underwent a four-hour operation to be separated on March 10th. Their individual weights have risen to 4lbs 6oz and 4lbs 1oz respectively, which is considerably more than the 6lbs they weighed together when they were found.
The twins, who had merged blood vessels, liver and chest bones, are also the youngest pair of conjoined twins who had been successfully separated in the Chinese city.
Hospital staff believes that concern over heavy medical expenses caused their parents to abandon them outside the hospital just eight days after they were born.
They held a press conference on Wednesday and urged the parents of the twins to come forward.
Even though the fees to operate on the babies has now exceeded 100,000 yuan ($22,000), the hospital says that the parents will not have to pay.
Future operations will also be waived They include heart surgery for both and cleft palate surgery for one.
Because the babies were so small, the hospital paid extra for their surgeries.Hospital officials said that the surgeons practised operating on rabbits at least three times before they dared to perform the surgery and the operation was divided into two parts.
The boys were separated at their abdomen and liver before their chest bones.
The operation was risky because the babies had no more than 240cc of blood in total, and a blood loss of 10 per cent or just 24cc, could have placed their lives in danger.
The good news is that the surgery was a resounding success and the babies are currently healthy and recovering well.
I personally hope these parents don't come back for them. They need parents that are going to love them regardless of their condition.
I just wonder how this moms delivered conjoined twins without anyone knowing? There would be no way that two heads could pass through the birth canal simultaneously
Related Articles:
SOURCE
---
[ad]