After not feeling her baby move for 36 hours, Zoe Green was rushed to the hospital for an emergency cesarean. Born at 37 weeks gestation, her son, little Harvey Sutton, had lost a third of his blood. He also had fluid in his lungs, anemia, blood poisoning, and had been deprived of oxygen. Doctors could only give him a 30 percent chance of survival.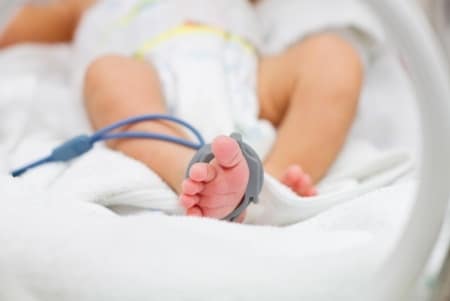 That was October 1st of last year.
Today, Harvey is a typically developing five-month-old child who "is doing so well, especially considering what he has been through."
Harvey's life was saved by an innovative cooling bed which induces hypothermia in hopes of giving the brain a chance to recover. Once signs of improvement are seen, the body is slowly brought back up to normal temperature.
"Babies, like Harvey, receiving this treatment are placed onto a special cooling mattress which is filled with fluid that can be cooled or warmed according to the baby's needs," Dr. Vidya Garikapati, consultant in neonatology at Heartlands Hospital, who treated Harvey and his mother told Express UK. "This is a specialist treatment that lowers the baby's normal body temperature from 37.0C to 33.50C to aid with the healing process of the brain. The temperature is monitored closely to ensure that it stays at the target temperature for 72 hours before a gradual re-warming process occurs. Studies have shown this new treatment can prevent long-term brain damage as it allows time for the brain to recover as the brain processes slow down."
Many infants who require this treatment suffer long-term conditions like cerebral palsy and epilepsy. But in Harvey's case, the recovery is nothing short of miraculous.
"We were told he would probably die – now I have no worries. I believe it's a miracle," Zoe told Express UK. "When we finally took him home it was lovely but surreal. Now he is so happy and smiley and he is doing really well. We still go to physio every two or three weeks and they are monitoring him for the next two years – but he is doing so well, especially considering what he has been through."
But Zoe says the equipment only took little Harvey so far. He had to fight to live, which is the one thing that no one – not even the amazing staff in the neonatal intensive care unit – could do for him.
"He really is a little fighter," she said. "Day by day he just started to get better. He was on the cool bed straight away. He was on it for three days…Obviously the equipment was there to help him but at the end of the day if he wasn't a little fighter he wouldn't be here."
Related Articles:
---
[ad]