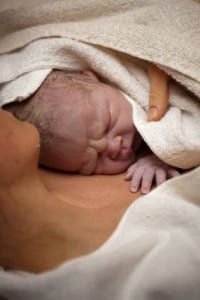 It has always been thought that when the water breaks a mother is ready to deliver her baby and that the delivery should happen within 24 hours to avoid a possible infection. But a small Dutch study suggests that in certain situations labor can wait and need not be induced.
According to a new research paper published in the PLos Medicine journal in preterm babies where the amniotic sac wall ruptures almost three to six weeks early but labor has not started, it is best to wait and monitor the baby's progress rather than induce labor immediately.
The researchers found that fetal blood infections and breathing problems in babies were not lessened when the pregnancy was induced after water broke. However, inducing labor did lead to a slight reduction in uterine environment infections, a condition known as chorioamnionitis.
To understand if inducing labor had any benefits in such cases, the researchers led by Dr. David van der Ham of the Maastricht University Medical Center randomly chose 536 women whose water broke at 34 to 37 weeks gestation to be induced or simply to be watched and monitored.
They found that among late preterm babies, where the water had broken before labor started, the rate of sepsis and breathing problems did not go up if the babies were allowed to deliver on their own without intervention.
"We conclude that in pregnancies complicated by [preterm pre-labor rupture of the membranes] between 34 and 37 weeks of gestation that the incidence of neonatal sepsis is low," the researchers wrote.
They also noted that inducing labor in such cases did not help in improving outcomes.
Dr. Chrisitian M. Pettker, an assistant professor and medical director of the labor and birth section of maternal fetal medicine at the Yale University School of Medicine however feels that the study wasn't large enough to definitely conclude that waiting for labor to proceed naturally does not increase rate of blood infection in newborns.
The fact that there was a higher rate of chorioamnionitis among deliveries that weren't sped up by induction suggests that the researchers might have seen a higher rate of blood infections if there had been more women in the study, Pettker explained.
"The study is too small for them to detect if induction is preventing infection in neonates," Pettker said. "But it appears to be preventing infections before and during labor — which might translate into a reduced risk of infection in the newborn."
Dr. Pettker also reads the research data differently from the Dutch researchers. He says that the findings may actually suggest that inducing labor does not really cause any problem.
"There doesn't seem to be a lot of risk in doing an induction," Pettker said. "And there's a possible benefit. Usually we worry about an increased Cesarean rate [with induction], but in this population there was not an increased risk for Cesarean in the group that was induced."
"If there does not seem to be a difference between waiting and inducing, it ends up being a discussion between the patient and her providers. Some patients will prefer no intervention in their birth process, while others will feel more comfortable with moving on with things and going forward with an induction."
---
[ad]