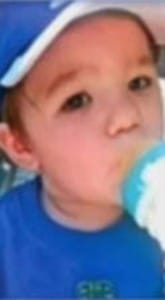 A Friday evening movie night turned dire when a South Carolina toddler left the room to get juice and didn't return. A call to authorities about 45 minutes later prompted a massive ground and air search of the wooded area circling out from the home.
The boy's mom, Jacklyn Marie Jacobson, and her boyfriend told investigators that 22-month-old Tyler Jacobson went missing after leaving the bedroom, where they were all watching a movie, to get some juice.
Her call to authorities about 45 minutes later prompted a massive search of the wooded area that surrounded their house. Bloodhounds and about 25 members of area fire and police departments combed the woods while a helicopter ran a search pattern overhead.
The frigid temperatures concerned officials because 22-month-old Tyler Jacobson was only wearing a a T-shirt and a diaper. While they didn't know for sure, it was believed that the family dog, a mixed Labrador, had accompanied the little guy on his adventure.
The search helicopter flew until the need to refuel and increasing winds forced it to ground around 3 a.m.
"The infrared picked up a lot of deer and other animals but no little boy," Kershaw County Sheriff Jim Matthews told The State.
On Saturday morning, with about 75 police, fire department and civilian volunteers, the search resumed. The searchers checked a nearby stream, and the above-ground pool in the family's backyard, to no avail.
About 200 yards from the road, a quarter-mile from the family's home, a man walking down the street heard crying in the woods.
A tearful Tyler, and his dog, were found. The toddler was cold but otherwise, doing OK.
"To tell you the truth, that dog is what kept him alive," Sheriff Matthews said.
They believe that the heat from that dog may also be what prevented an infrared equipped search helicopter from spotting the little boy.
He was examined by emergency personnel on the scene and taken to a local clinic for evaluation.
The boy's biological father was flying home from his military assignment in Hawaii on Saturday night after it had been revealed  that the living conditions in the boy's home were "deplorable."
---
[ad]