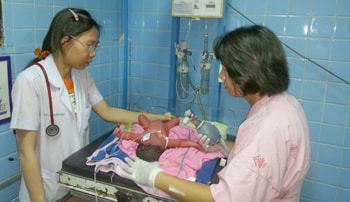 Dogs are said to have a sixth sense.  They can often detect the supernatural, some cancers in humans and even know when shifts in the earth are about to happen.  Over the years we have reported on a long list of incredible pooches who have been responsible for saving the lives of special needs children, toddlers in distress and abandoned babies.
This weekend a Thai dog was credited for rescuing a newborn baby who had been placed in a plastic bag shortly after birth and left in the landfill to die.
The Bangcock Post reported that the two-year-old Bangkaew dog named Pui found the baby stuffed in a white plastic bag in a garbage dump in Sala Loi in Tha Rua district.  He carried the baby in the bag to his house and barked loudly to get attention of his owners.
Twelve-year-old Sudarat Thongmak was first to spot the dog and opened the bag.  When she saw the weak newborn inside, umbilical cord still attached, she ran to get her mom, Pummarat, and her father, Kummerd.
The tiny baby, who was born 10 weeks premature, weighed just 4lbs 8 ounces.  The little fighter was given oxygen and other treatments at the hospital and is now in a stable condition.
After a search of the community police were not able to find anyone who could be the baby's mom.
Mrs. Thongmak contacted the district Red Cross office to indicate she would like to adopt the baby as Sudarat is her only child. The office will not, however, make a decision until the condition improves.
For his valiant effort Pui received a leather collar and a certificate from the Red Cross office of the district.  Miracle of Life Foundation also gave the Thongmak's 10,000 baht in cash to help feed Pui and three other dogs at the house.
The story comes just a week after a baby in China needed to be rescued from a sewer pipe after his mom flushed him down the toilet following his unplanned birth.
There are so many options for women in every country who cannot care for their babies.  It is heartbreaking to hear that they are choosing to just let their children die on the side of the road.
---
[ad]