Drew Barrymore was winsome in white while walking the red carpet with her husband Will Kopelman at the 2nd Annual Baby2Baby Gala in Culver City, Calif. on Saturday (Nov. 9).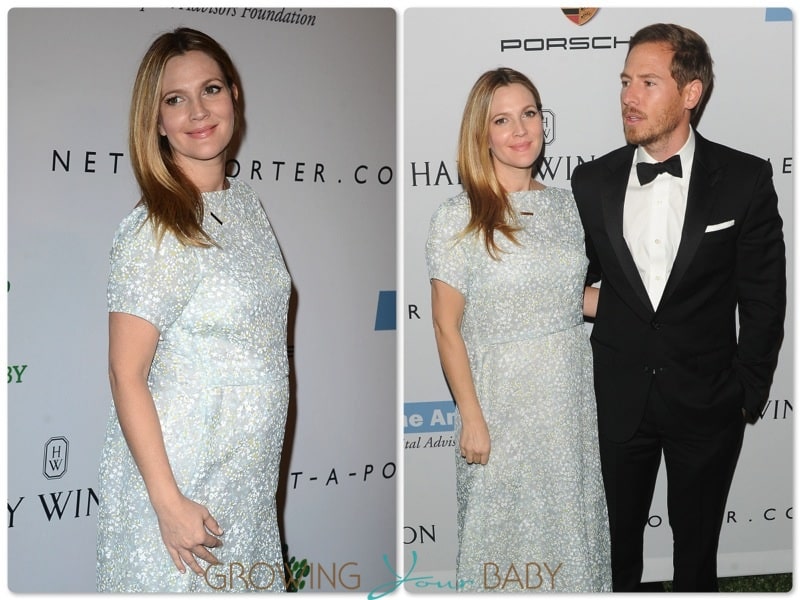 Pregnant with her second child, Drew dished to US Magazine about her current cravings telling them,
"I eat a lot of Chinese food," she told the magazine. "I like specifically pan fried noodles. I'm going to make a list of the best pan friend noodles in Los Angeles."
This time around, she says, she is more relaxed about the pregnancy, but balancing work and motherhood is tricky.
"You just always feel torn," she said. "It's always a juggling act and a balancing act, but I think life is always there to teach you how to try to be as graceful as you can."
Olive, her 14 month-old daughter is also starting to understand she is going to be a big sister.
"I read her a lot of books," she said. "She loves books! That's her favorite thing in the world, books. She is 14 months so it's as much as she can grasp but she definitely gets it. She points to my stomach and says baby. How cool is that?"
Earlier this week Drew confirmed she and Will are expanding their family.
"Last time I never commented on it and people just stalked me the entire time," the mom-to-be, told People on November 5th. "So yes, it's happening, it's true. I tried to keep it a secret for as long as possible."
{PACIFIC COAST NEWS, WENN}
---
[ad]