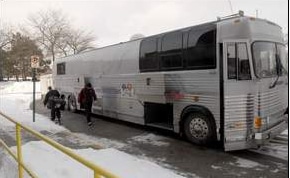 America's most intriguing family has just grown again – to include a bus.
The family, which is currently sitting at 19 members (including parents Jim and Michelle), purchased the former Port Huron Flag Team's Tour bus to be used to show their kids the country.
The 1993 Prevost luxury traveling machine suits the family's need perfectly. It has 15 beds, which will allow the group to travel north this year to visit Michelle's family in Ohio.
"(The bus) works out very well for our family," Jim said. "We've done a limited amount of travel in it so far. It will be something we'll use hopefully in the years to come."
Related Articles:
---