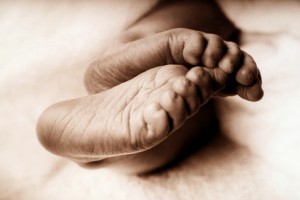 A baby girl brought little bit of hope and sunshine to the people of Haiti in the aftermath of a tragedy that shook their world. Just 2 hours after the quake hit Haiti, a bay was born in a make-shift medical post in capital Port-au-Prince by Brazilian soldiers.
The baby's expectant mother was brought in with 120 others to the camp in order to be given emergency medical treatment after the earthquake. According to the medical Captain Fabricio Almeida de Moura she was not injured but asked for help with preterm labour. "The shock of the earthquake made her go into labour and we had to carry out the delivery in a garage." He said.
With the aid of Brazilian soldiers the baby girl was delivered in the make-shift post even as many in the city tried coming to terms with their devastating losses.
The Captain did not reveal the name of the mother or the child and said that although the baby was doing well and was being given milk, her mother suffered complications with hemorrhaging that would not stop
The little medical post is trying its best to manage the constant arrival of injured and trauma stricken people as it also brings in a new life. – Atula, Staff Writer
Related Articles:
PHOTOCREDIT:Steve Lovegrove – Fotolia.com
---
[ad]