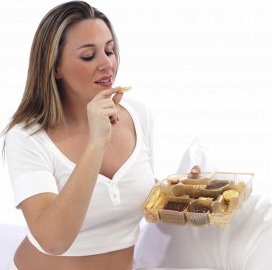 Britain's Health Services has sobering news for expectant mothers. The belief that pregnant women are eating for two, is a myth.
According to the latest draft of Health Services guidelines, women can maintain their usual diets all the way through the first six months of pregnancy. Through the final three months they only need to increase their consumption by 200 calories. Health Services also highlighted that there is no need for women to switch to full fat milk while expecting.
According to the Royal College of Obstetricians and Gynaecologists, a woman should gain no more than 10-12 kg during pregnancy.
These advisements have come in response to the growing number of overweight and obese mothers. Obese women now make up 25% of the female British population and another 33% are overweight.
These extra pounds can put an unborn baby at risk, but women are not advised to lose weight during pregnancy. Instead, it is recommended that they seek help to lose weight before conceiving.
"Many overweight women have healthy babies, but the evidence suggests that there are more risks associated with pregnancies in women who have a BMI of over 30," said Mike Kelly, Director of the Centre for Public Health Excellence at NICE.
Kelly says the new guidelines are meant, "to dispel any myths about what and how much to eat during pregnancy – there is no need to 'eat for two' or to drink full-fat milk"
According to Rosie Dodds of the National Childbirth Trust, this new advice provides an opportunity to reverse the trend, "Women are more likely to make changes to their diet when they are pregnant and this opportunity can improve the family eating pattern for the future." – Jen R, Staff Writer
Related Articles:
---
[ad]