Delora Eco Diapers might just be the closest all 'disposable' diaper we have found that are compostable.  Many other products on the market that are designed to break down are cloth diaper hybrids with a compostable insert.  Parents who are stuck on wanting the convenience of a disposable without the environmental impact may want to give these a try.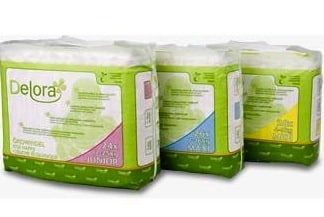 Manufactured in Germany and available in 3 sizes to suit babies from 4 – 25 kg, this eco diaper is 2/3rds Biodegradable/compostable (Midi = 65% / Maxi = 66% / Junior = 67%). To home compost the company recommends that you remove any solid waste, the tabs and elastic leg cuffs and then place in your composter. SAP super-absorber will improve moisture retention of compost material. Independent testing of the diapers found that they degraded within 90 days in a landfill environment.
The soft, pure white outer cover is 100% biodegradable and breathable and made from organic (GM Free) plant starch. The cellulose core comes from certified sustainable forestry and the diapers aren't chlorine bleached. Plus, they are hypoallergenic and dermatologically certified as 'especially skin friendly'.  Packed in 100% biodegradable foil bags.
Related Articles:
---