An Egyptian woman has given birth to septuplets at a hospital in the Egyptian coastal city of Alexandria.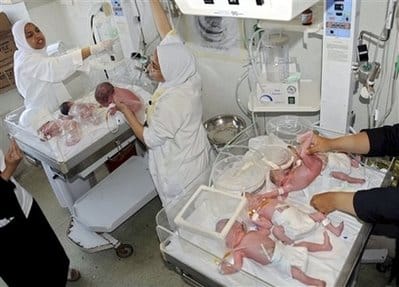 Emad Darwish, head of el-Shatbi hospital says the 27-year-old Ghazala Khamis is now in a stable condition, although she did require a blood transfusion during the Caesarean section because of bleeding.
The babies, four boys and three girls, who arrived at 34 weeks gestation, have been placed in incubators in four different hospitals since they were premature.
"This is a very rare pregnancy, something I have never witnessed over my past 33 years in this profession," Darwish said.
He added that he decided to carry out the C- section at the end of the eighth month of pregnancy, due to the pressure of the womb on the mother's kidneys.
The babies' weights range from an amazing 3.2lbs to 6.17lbs. There must be a record here…Normally septuplets arrive weighing under 2lbs each because there are so many of them sharing such a small space/food supply.
I wouldn't be surprised if they were all breathing on their own already…
Ghazala, who already has three girls, has been on bedrest for 2 months now. The babies are being called miracles because they were not conceived with the help of any fertility medication.
Related Articles: