"Grey's Anatomy" star Ellen Pompeo and her sweet daughter Stella Luna were spotted arriving for lunch at Cliff's Edge restaurant in Los Angeles, California yesterday.
Stella was cute in her green rain boots and blue jacket while mom Ellen rocked a chic trench coat.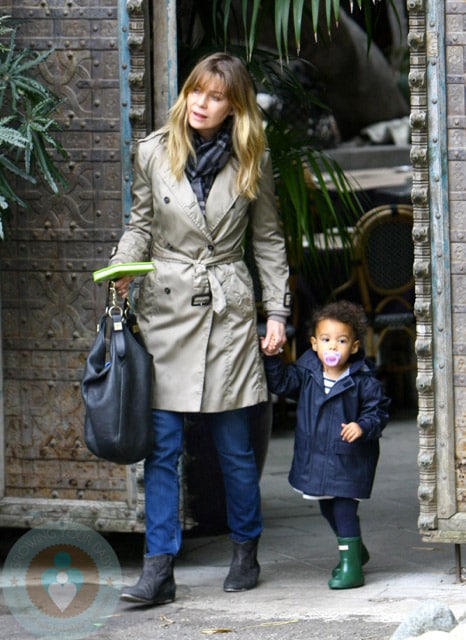 Are Ellen's days on Grey's Anatomy numbered? The actress recently launched her own production company, Calamity Jane, which has sold its first project to ABC.
Deadline reports that the untitled drama, which is being written by Mike Sussman, co-creator of TNT's upcoming drama series Perception will revolve around Diplomatic Security special agents who travel the world protecting American officials on diplomatic missions. Mike will write the drama and executive produce with Ellen for ABC Studios.
The actress is also in the last year of her current contract for the show. She recently spoke to TV guide about her contract saying,
"I was invited for eight years — that was my contract — and no one has asked me for a day more," she says. "I know [creator] Shonda Rhimes has said the show will continue, but I wouldn't presume that they want to continue with me. You don't get dressed for the party if you don't have an invitation."
She does say, however, that if she would like to come back.
"I would love the opportunity to discuss it," she says. "I would never turn up my nose at Grey's. As long as the stories are honest and truthful, and Patrick [Dempsey] and I feel there is material for us to be passionate about, it still beats a 9-to-5 job any day. If I hear from the fans that they want us to keep going, then I would continue because we owe them everything."
---
Related Articles:
{FAME}
---