Well known for keeping her private life very quiet, Ellen Pompeo surprised many on Thursday when she announced the arrival of her second child by surrogate.
There were many questions raised about the baby's arrival and it didn't take Ellen long to reveal more details about Sienna's birth.  While on Jimmy Kimmel Live Thursday night the actress joked with the host about being super secretive about the whole experience.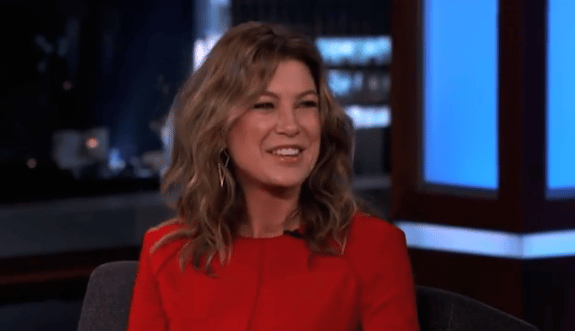 "She was born two months ago.  I've done it before. The covert thing is kind of fun. This baby was born via surrogate, so I felt an obligation to keep the surrogate's privacy. That was of utmost importance to me."
Curious about the 'process' Jimmy asked,
"Pardon my ignorance on this.  When you have the baby through a surrogate, does your husband, uh, visit her in the motel room?"
Laughing Ellen explained,
"No, no." Stumbling a bit as she tried to explain it tactfully.  "I was present for the insemination. I held her hand. So they take the sperm… medically, Chris Ivery has to do what he has to do, and provide what he has to provide."
Continuing,
"I had to provide something as well… You have to retrieve the egg. And then they put it together in a dish — the lab technicians — and then they make the embryo. Then they insert the embryo into the woman who will carry the child."
Thankful for everything their surrogate did for them Ellen said,
"This is an incredible thing to do with your life, to give the gift of carrying someone's child. I am forever grateful and feel very blessed and grateful to her — she who will remain anonymous. I was there with her when they inseminated her, and we held hands. I looked into the microscope and I saw the embryo. I saw the baby, and they put it in a thingy and they inseminated her. And then we held hands and we prayed, we talked to God, and if she was meant to be. He said he was going to try to help us out and now we have a gorgeous baby girl."
Sienna joins Ellen and Chris' five-year-old daughter Stella.  Shortly after the baby's arrival had been announced Ellen showed off exclusive pictures of her bright nursery for Architectural Digest's November issue.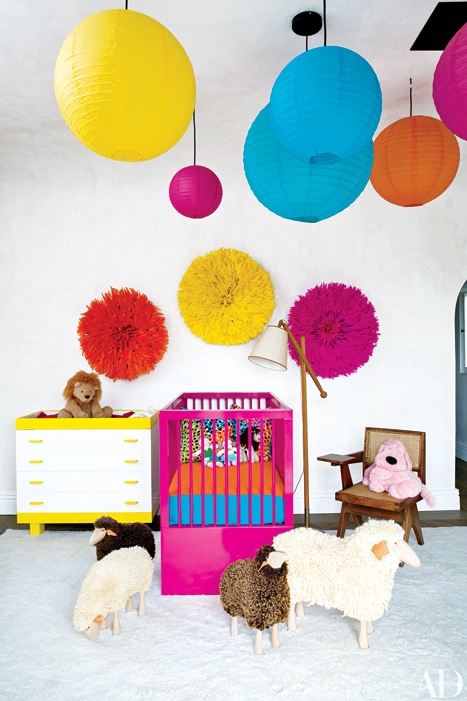 Baby Sienna May's nursery is furnished with feather headdresses from Nickey Kehoe, a Pierre Jeanneret child's chair from JF Chen, and a carpet from the Rug Company.
---
[ad]