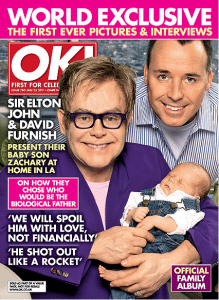 In a surprise announcement just before the New Year, Elton John and David Furnish revealed that they became fathers for the first time on Christmas Day.

They are now showing off the new addition, baby Zachary Jackson Levon, on magazine covers in the US and UK in Us Weekly and OK! Magazine.

The two dads shared their child, and they couldn't help gushing about the little baby boy. Elton spoke about holding his son for the first time to Us Magazine:
"I've never felt anything like it in my life. You're so awestruck. What can you say? You take it in. The feeling, the joy, the warmth of his body, his breathing…I will never forget that experience ever."
The pair are ready to raise a child, and they have planned accordingly. While they have hired nannies to assist them in raising baby Zachary, the couple plans to be hands on as much as possible. Recently David said,

"We don't want to put the raising of children into the hands of nannies and housekeepers. We want to be active parents. We have godchildren and kids that we support in Africa, so we're fine."
Elton is getting ready to head out on a new tour on January 26th. The first date will be in France, and they have a staff ready to travel with them to help out with baby Zachary. Sounds like they have a busy time ahead for them, but the pair seem to have a handle on things!
Related Articles:
---
[ad]