Karen Hollander wanted to beat the after-Christmas crowds, so she decided to head out shopping on Christmas Eve. Little did she know, she'd be coming home with a few more "gifts" than she'd bargained for.
"I was thinking that I should buy a car seat before they closed the store for Christmas," Karen told NY Daily News.
On the drive home that she started having contractions. She called her husband, Roger, 43, and they set a meeting place about halfway between them. He abandoned his task of getting the baby's room ready and jumped in his car to meet her. That was at 3:30 in the afternoon. Then, she stopped answering her phone.
"I had 10 or 15 minutes of utter terror," Roger told NY Daily News. "I was thinking that she was driving on the LIE (Long Island Expressway). I didn't know if she had made it off safely."
She was safe, and she did make it off the highway. But Karen had realized along the way that there would be no way she'd make it to their meeting place. She pulled off into a Bank of America parking lot and dialed 911.
"The 911 operator was like, 'Ok, when the baby comes out, you're going to have to use suction,'" Karen told NY Daily News. "I'm like, 'I'm driving. I'm by myself. I'm not delivering my baby in this Prius.'"
Thankfully, a Nassau County ambulance pulled up before that ended up happening…but not by much.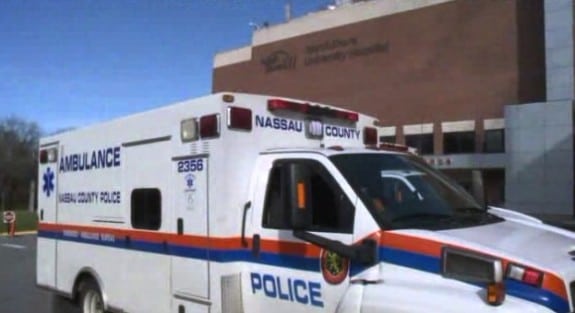 "One guy was trying to do the IV and the other guy was like, 'Stop with the IV. It's time to deliver the baby; I need your help,'" she said. "Then they were like, 'Stop the ambulance. The baby's coming out!'"
Within just a couple of minutes, the ambulance ended up pulling off to the side of the road to deliver 7lb, 4oz Alexandra Leah Hollander. Karen was excited to welcome her beautiful daughter to her brood (Eitan, 12; Ori, 8; Adam, 6; and Elad, 3), but her husband still had no idea that their baby had been born.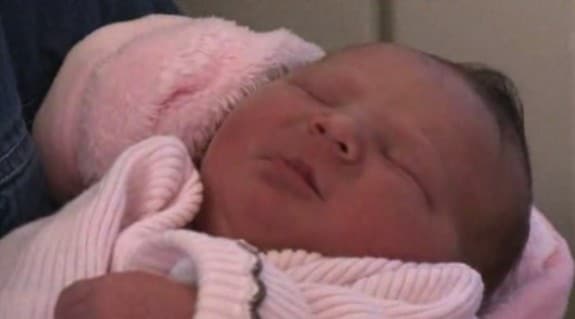 "When I came in about a minute behind the ambulance, people were saying, 'Congratulations,' and I didn't know what for," Roger said. "They whisked me away into the emergency room and my wife was sitting there with our baby in her arms. It's been an utter whirlwind."
Related Articles:
---
[ad]