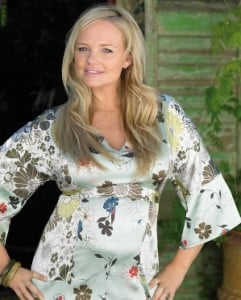 Expectant Spice Girl Emma Bunton models for Mamas and Papas maternity line. In these pictures she looks to be just 6 months along.
The baby is due this fall so she is probably quite a bit bigger now. Big enough that she is planning on doing a belly cast of her growing body.
It was reported this morning that:
Baby Spice's boyfriend Jade Jones reportedly made a spontaneous visit to a North London salon late last week to purchase a do-it-yourself belly casting kit for his pregnant girlfriend.
After checking out the salon, Jade purchased Everlasting Castings 'Deluxe' kit, which comes complete with splash-proof instructions, a plaster bandage, Vaseline, plastic sheeting, a legs & panties protector, two pairs of gloves in two sizes, an apron, a picture hook & a silver ribbon.
The ex-Damage singer joked with staff that he was planning to make a cast of his own belly.
"Jade bounced into the shop like an excited father-to-be and said he was interested in one of the kits in the window display. When I asked if the kit was for him, he laughed and said, 'No, not for me, but I do have a bit of a belly, though," The Sun quoted a customer, as saying.
The mom-to-be models the following clothing for Mamas and Papas:
Print Silk Komono Price: £45.00

Printed Jersey Dress Price: £40.00

Baby Doll Top Price: £30.00

Wrap Jersey Dress Price: £35.00
---
More info available at the
Mamas and Papas website
---
[ad]