Stars were on hand on Sunday for the World Premiere of Columbia Pictures and Sony Pictures Animation's 'Emoji' Movie held at the Regency Village Theatre.
During a rare public appearance, Christina Aguilera walked the red carpet with her husband Matt, their daughter Summer and her son Max from her previous marriage.  The singer was hot in black pants with a red flowers, a matching jean jacket, stripped tee and heart sunglasses.  Both Max and Summer wore emjoi gear to support the movie.  Christina voices the part of Akiko Glitter for the movie.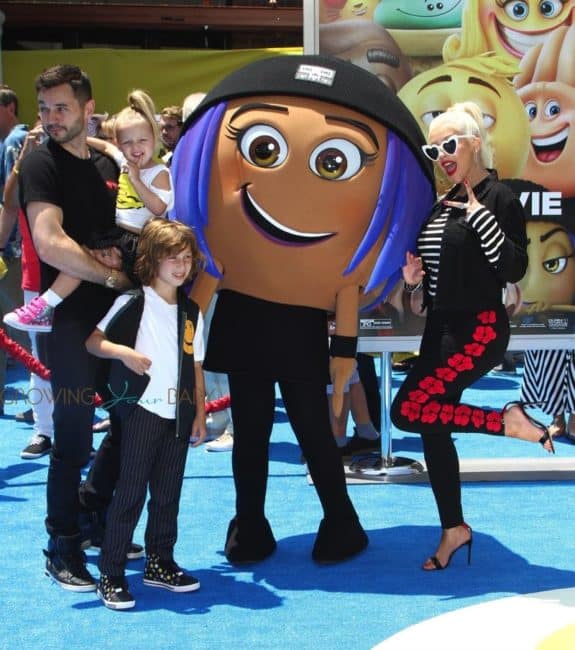 Anna Faris was all smiles as she walked the red carpet with son Jack.  The actress voices the part of Jailbreak for the movie.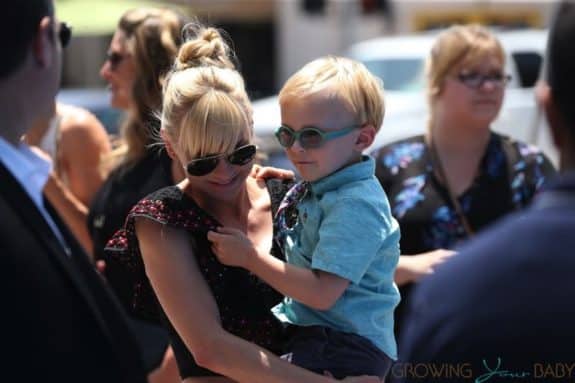 Tori Spelling and Dean McDermott arrived with their 4 oldest kids; Liam, Stella, Hattie and Finn.
The Emoji Movie unlocks the never-before-seen secret world inside your smartphone. Hidden within the messaging app is Textopolis, a bustling city where all your favorite emojis live, hoping to be selected by the phone's user. In this world, each emoji has only one facial expression – except for Gene, an exuberant emoji who was born without a filter and is bursting with multiple expressions. Determined to become "normal" like the other emojis, Gene enlists the help of his handy best friend Hi-5 and the notorious code breaker emoji Jailbreak. Together, they embark on an epic "app-venture" through the apps on the phone, each its own wild and fun world, to find the Code that will fix Gene. But when a greater danger threatens the phone, the fate of all emojis depends on these three unlikely friends who must save their world before it's deleted forever.
The movie officially opens in theaters on July 28th, 2017.
{BACKGRID}
---
[ad]