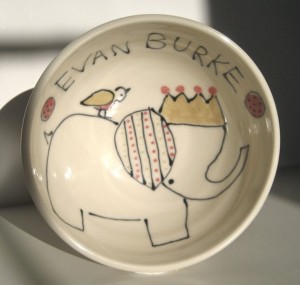 Abby Berkson is a potter based out of Northampton, MA and her Etsy shop, Abby Berkson Ceramics, features the most beautiful collection of wheel thrown, hand decorated pottery. 
Aside from bowls, Abby's collection includes sugar pots, lidded jars, mugs, cups, soy sauce pots and bowls, teapots and vases. 
Each piece is one-of-a-kind and the illustrations are inspired by textile design and children's book illustrations which make them the perfect gift and keepsake for a little one in your life. 
 Not only are Abby's pieces charming but they are also dishwasher and microwave safe making them functional and perfect for the busy parent. 
As each of her pieces is hand crafted and hand painted, there are plenty of designs to choose from, or if you want, Abby would be happy to take your custom order.
Abby's collection really does offer you the opportunity to give a unique, one of a kind gift for mom's, babies or children. 
---