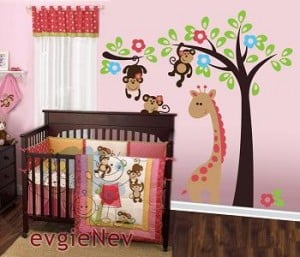 We love wall decals!  We've talked about them before on many occasions, and we're here again to share with you a great artisan shop called Evgie.
Evgie features handmade wall decals and removable stickers produced from top-quality vinyl.  I used wall decals to decorate my son's nursery, but there are many other thing that Evgie suggests you can use their decals for – many of which I hadn't thought of.  For instance, why not use one of their wall decals to decorate a toy chest?  Or decorate your windows, doors or mirrors?  Take it a step further and decorate your laptop!
One look at the Evgie collection and you'll likely agree with me that the whimsy yet elegant making them perfect for your home.
Evgie started off with handmade clever toys and educational materials for babies, toddlers, kids and their parents, along the way they developed a large library of illustrations that they decided to turn into vinyl art.
The Evgie team believes that "Walls are the expression of our imagination. Vinyl art has transfigured the way we decorate. Customize any room in your home with easy to apply wall decals, handmade from a top-quality vinyl. It's a fun and inexpensive way to add your personal touch to any room, switch themes in ever-changing baby's and kid's rooms, label your kitchen jars, decorate toy chests, laptops and iPods, windows and glass, or mirrors. Some refer to the whimsical wall decals as "home tattoos" with only difference, and it's the best part, they are 100% removable when you decide it's time for a change. They'll be gone without a trace and won't damage paint underneath."
Looking through the Evgie shop I was quickly drawn to my favorite decal – the Vinyl Decal Jungle Gym Playroom.  Imagine yourself and your baby surrounded by the Jungle full of vibrant colors, exotic animals and birds made from high quality vinyl.  I love the monkeys and think they are super cute – especially the one with a soother holding a toy bunny (maybe because he reminds me of my son).
Evgie wall decals are Canadian made, very affordable, and beyond cute – but don't take our word for it… go check them out!
---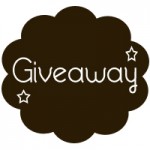 GIVEAWAY:
Evgie Wall Art & Decals is offering ONE Growing Your Baby reader the opportunity to win a Charming Little Daisy Growth Chart!
Congratulations to our winner: Ted Kooper
---
[ad]