Evan Leversage, the little boy who inspired his entire hometown to get into the holiday and throw a Christmas celebration early in his honor, has passed away. Stedman Community Hospice in Brantford, Ontario confirmed the news that Evan died early Sunday morning.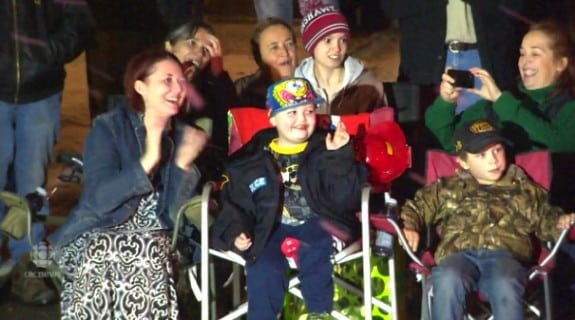 On Facebook, Leversage's mother, Nicole Wellwood said, "I couldn't believe my eyes but he died with the most beautiful smile on his face. I was holding him as he took one last deep breath, and I knew at that very moment that this would be his last."
Evan was diagnosed with cancer just a few days before turning two. After completing 70 weeks of chemotherapy, he seemed to be getting better. However, last January, an MRI was done because he began losing mobility in his leg and arm. The test confirmed that the tumor had grown. Another 30 rounds of chemotherapy were done. However, it wasn't enough, as this past fall, the family learned that the tumor had grown and spread.
Doctors urged the family to throw a holiday celebration early. Evan's hometown of St. George, Ontario was more than happy to oblige. The family originally just spoke to a few neighbors, asking them to put their holiday lights up early, so that Evan could enjoy them. However, the request blossomed into something much, much bigger.
"What started out as a small request to have neighbours put their outdoor lights up a little early for Evan to enjoy blossomed into an international outpouring of love and support," according to a hospice statement. On October 24, the town's lights were up and the main street was completely filled with holiday decorations and carolers were going door to door.
Over 7,000 people turned out, that's double the town's population. A statement on the hospice's Facebook page said, "One of Evan's favourite highlights during his stay at the hospice was the day that staff wheeled his bed into the family room so that he could direct the volunteer firefighters who were putting together the huge 12-foot Christmas tree. Evan took great pride in telling them where to put each decoration on that tree and also enjoyed a special visit from Santa."
Evan's story has not only inspired his hometown, but others around the world, with his story being picked up by British, Irish and United States publications. His legacy will not be forgotten, and his spirit will live on through our Christmas spirit and kindness to one another. Wellwood said, "While my heart has broken, it is slowly being mended by the outpouring of love and support that we have received."
Funeral arrangements are pending.
---
[ad]