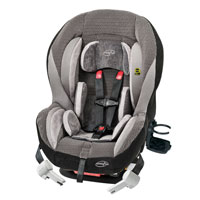 With summer in full swing, it's the perfect time to pack the kids in the car and take a road trip.   In an effort to make your vacation safer for your little one, Evenflo has introduced the Momentum 65 DLX Convertible Car Seat.
The Momentum 65 Boasts Exclusive Features That Make Safety, Installation and Use Simple for Parents and Safe for Children. Some of it's superior safety and comfort features include:
Advanced e3 Triple-layer foam technology reduces Side Impact crash forces by 50% by absorbing crash energy away from the child
Expanded Zone of Protection absorbs energy in a broader range of side impact crashes
SureLATCH® technology – an exclusive Evenflo innovation consisting of two connectors for use with a vehicle's LATCH system. Just Click, Click, Push for super-fast, super-snug installation in less than 60 seconds!
65 lb. harness weight rating to keep children safely harnessed as they grow!
Infinite Slide Harness™ simply slides for an accurate fit.  No rethreading necessary!
ReclineRight™ multiple-position upfront recline is easy to use and adds comfort for the child
Removable, flip-down cup holder
Easy-off, machine-washable car seat pad requires no harness rethreading

Evenflo is on a mission to provide parents with products that will keep their children safe and make their lives easier. Parents can learn more about the innovative technology of the Evenflo Momentum 65 DLX Convertible Car Seat and check out the "Savvy Parents" video series. With themes such as "How to Repair Your Husband's Bruised Ego," and "How to Recover From a Potty Mouth Moment," the videos are designed to entertain but also provide a real-life, yet humorous look at parenting moments both moms and dads can easily identify with.
The Momentum 65 DLX is now available, and retails for $199.99.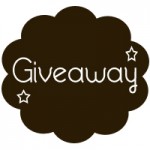 Evenflo offering one Growing Your Baby reader the opportunity to win the Ultimate Savvy Parent's Car Kit. ($100 value)
The kit includes the following:
$25 Gas Gift Card, a little treat for mom and dad
Moist Wipes, for quick car clean up
Baby Mirror, to check out rear-facing baby while driving
Soft Book, to secure safety of passengers when thrown during tantrum
Kid/Parent Friendly CD, to inspire a family sign along
Car Dustbuster, for hunting down cheerios between seats
Window Shade, to keep the hot summer sun out
Animal Crackers and a Snack Trap, to carve cravings
Car organizer, to keep it all arranged neatly!
Congratulations to our winner: Erin  M.