Tis the season for fresh fruit and vegetables.  But which ones should you be grabbing from the organic counter?
Every year the Environmental Working Group (EWG) releases their 'dirty dozen', a list the group compiles after they analyze test results of more than 35,200 samples of fruits and vegetables taken by the U.S. Department of Agriculture and the Food and Drug Administration.
For the past 5 years the apple has take the top spot on the group list as the produce with the highest pesticide residue, but that has changed for 2016.  The apple has been dethroned by the beloved strawberry.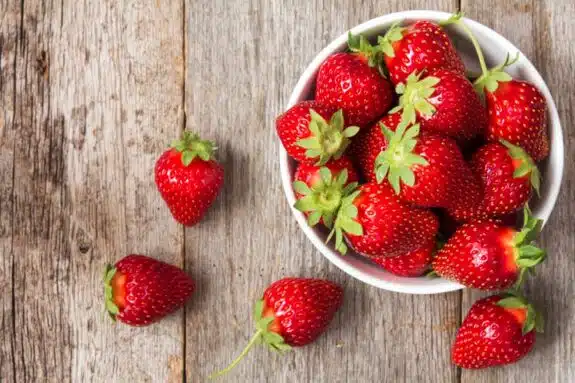 And for good reason…  Nearly all of the (non-organic) strawberry samples – at least 98 percent – had detectable pesticide residues, with 47 percent having residues of 10 or more pesticides. Some samples showed residue from 17 different pesticides.
Some are fairly benign. But some are linked to cancer, reproductive and developmental damage, hormone disruption and neurological problems. Among the worst:
Carbendazim, a hormone-disrupting fungicide that damages the male reproductive system, was detected on 30 percent of 2014 samples. The European Union has banned it because of its intense toxicity.
Bifenthrin, found on more than 40 percent of samples in 2014, is an insecticide that California regulators have designated a possible human carcinogen.
Malathion, found on more than 20 percent of samples in 2009 and 10 percent in 2014, is toxic to the nervous system and, according to the International Agency for Cancer Research, a probable human carcinogen. It is often sprayed to eradicate mosquitos and other insects. In addition, malaoxon, a particularly toxic chemical formed when malathion breaks down, showed up on more than 10 percent of the 2009 samples.
"It is startling to see how heavily strawberries are contaminated with residues of hazardous pesticides, but even more shocking is that these residues don't violate the weak U.S. laws and regulations on pesticides in food," Sonya Lunder, EWG Senior Analyst, said in a statement. "The EPA's levels of residues allowed on produce are too lax to protect Americans' health. They should be updated to reflect new research that shows even very small doses of toxic chemicals can be harmful, particularly for young children."
The EWG also revealed that strawberry growers use jaw-dropping volumes of poisonous gases – some developed for chemical warfare but now banned by the Geneva Conventions – to sterilize their fields before planting, killing every pest, weed and other living thing in the soil.
This may be the year to start growing your own…
The complete list of the 2016 "Dirty Dozen" included many popular fruits and vegetables:
Strawberries
Apples
Nectarines
Peaches
Celery
Grapes
Cherries
Spinach
Tomatoes
Sweet bell peppers
Cherry tomatoes
Cucumbers
On the flip side, avocados lead the list of the group's "Clean Fifteen" list, with less than one percent of samples showing any detectable pesticides.   The EWG also noted:
Some 89 percent of pineapples, 81 percent of papayas, 78 percent of mangoes, 73 percent of kiwi and 62 percent of cantaloupes had no residues.
No single fruit sample from the Clean Fifteen™ tested positive for more than 4 types of pesticides.
Multiple pesticide residues are extremely rare on Clean Fifteen™ vegetables. Only 5.5 percent of Clean Fifteen samples had two or more pesticides.
The "Clean Fifteen" fruits and vegetables highlighted by the report are:
Avocado
Sweet corn
Pineapples
Cabbage
Sweet peas (frozen)
Onions
Asparagus
Mangoes
Papayas
Kiwi
Eggplant
Honeydew melon
Grapefruit
Cantaloupe
Cauliflower
To limit exposure to these chemicals, the group recommends purchasing organic for the fruits and vegetables that ranked high in pesticide residue in the report.
"Fruits and vegetables are important for your health," Lunder said. "But for those on the Dirty Dozen, we recommend buying the organic versions if you want to avoid pesticides on your food."
---