We've heard it more times than we can count – Breakfast is the most important meal of the day. Ideally, we'd like to create wholesome, whole grained breakfasts with fruits for our children every morning, but on busy days, it just might not be feasible. So, instead, we turn to boxed breakfast cereals.
As we walk down the cereal aisle, we see boxes upon boxes of cereals claiming to be a "good source of fiber," "whole grain," and an "excellent source of Vitamin D." Unfortunately, the cereal aisle isn't quite as wholesome and healthy as it might look. In fact, some of those cereals touting such nutritional claims are the worst cereals to give our children in the morning.
Why?
Because they contain sugar…loads of it!
After analyzing 1,556 cereals (including 181 that are marketed for children), the Environmental Working Group (EWG) found that most cereals have so much sugar that one could consume more than 10 POUNDS of sugar a year from cereals alone. Forty cereals in total contained so much sugar that they exceed more than half of the daily amount of sugar suggested by health organizations and agencies. And some contained as many as six different types of sugary sweeteners. The worst offenders – many of which feature cartoon characters on the box – contained the most sugar per serving, as much as three "Chips Ahoy!" cookies.
EWG's Hall of Shame cereals that contain more than 50% sugar by weight are: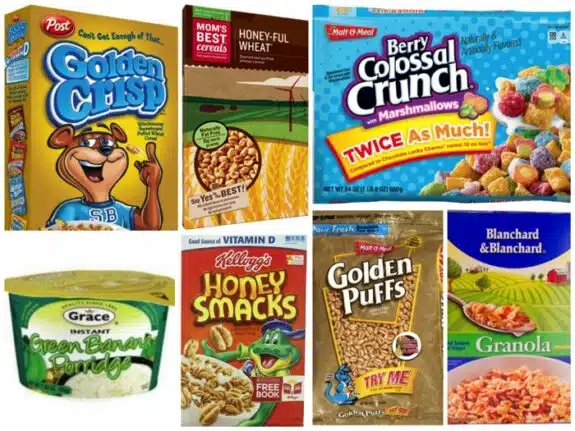 National Brands
Kellogg's Honey Smacks (56% sugar by weight)
Malt-O-Meal Golden Puffs (56%)
Mom's Best Cereals Honey-Ful Wheat (56%)
Malt-O-Meal Berry Colossal Crunch with Marshmallows (53%)
Post Golden Crisp (52%)
Grace Instant Green Banana Porridge (51%)
Blanchard & Blanchard Granola (51%)
Store Brands
Lieber's Cocoa Frosted Flakes (88%)
Lieber's Honey Ringee Os (67%)
Food Lion Sugar Frosted Wheat Puffs (56%)
Krasdale Fruity Circles (53%)
Safeway Kitchens Silly Circles (53%)
The kids' cereals with the least amount of sugar per serving:
National Brands
Kellogg's Rice Krispies, Gluten-Free (1g)
General Mills Cheerios (1g)
Post 123 Sesame Street, C Is For Cereal (1g)
Kellogg's Corn Flakes (3g)
Kellogg's Rice Krispies (4g)
Kellogg's Crispix Cereal (4g)
Store Brands
Springfield Corn Flakes Cereal (2g)
Valu Time Crisp Rice Cereal (3g)
Roundy's Crispy Rice (4g)
Shop Rite Scrunchy Crispy Rice (4g)
When comparing this year's results to those of 2011, EWG found that only a handful of that year's offenders lowered their sugar content – 11, to be exact. The rest are still too sweet and contain as much as two teaspoons of sugar per serving. The clincher? The serving sizes are often so small that most children eating these cereals are getting much more than just one serving.
Sugar is a serious issue in today's society. It's found in breads, tomato paste, salad dressings, cereals, and more. In fact, the USDA calls sugar "the number ONE food additive" in America. This only further perpetuates our problems with tooth decay, obesity, and obesity-related diseases.
So what's a busy, health-conscious parent to do?
EWG has a few suggestions, including preparing homemade, whole grain hot cereals from home (oatmeal, gritz, etc.) as much as possible. Serve these with fruits for added fiber, potassium and other important vitamins and minerals.
For those times when you're in a rush or you know you have a busy day planned, there are a few (although not nearly enough) options that parents can feel good about. Parents can also learn how to read labels for sugar content. Low sugar cereals are going to contain no more than 4 grams of sugar per serving. Moderately sugared cereals will have less than 6 grams. Anything over that should be avoided completely.
The most important thing we parents can do?
Speak out. Talk to cereal manufacturers about our concerns over sugar in our children's cereals. Our buying dollars have power. Our voices have power.
Related Articles: