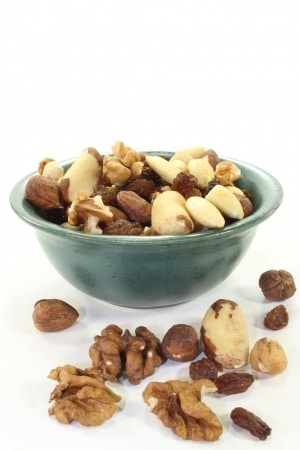 For years, we parents have been checking labels carefully for traces of eggs, peanuts or fish in the foods we feed to our children. We've been told they shouldn't eat these foods until they're at least a year old, and in some cases, not until they've reached the age of three – especially if we or one of our older children has an allergy. Some of us have even been told to not eat them during pregnancy or while breastfeeding.  But according to Canadian pediatricians and allergy experts, those days of worrying and label checking may be over.
"There is no evidence to support the theory that avoiding certain foods during this time will prevent allergies in children," Dr. Cart Cummings, co-author of a statement made by the Canadian Pediatric Society and chair of the CPS Community Pediatrics Committee, said in a statement to CTV News.
In fact, experts are now saying that waiting longer to introduce these foods could actually increase the chances that children will develop an allergy later on in life.
"There is increasing speculation that a later introduction of peanut has increased the prevalence of peanut allergy," the doctors wrote in their Dietitians of Canada-endorsed statement, which was a joint effort from the Canadian Pediatric Society and the Canadian Society of Allergy and Clinical Immunology. "One study in the United Kingdom showed that the prevalence of peanut allergy tripled during the period when public health practitioners were advising parents to delay peanut introduction."
For this reason, experts are now recommending that parents start introducing high-risk allergy foods like eggs, peanuts and fish as early as six months of age.
"So now we can so, don't feel guilty about that. There's no harm to that from the current state of knowledge. There might be actual benefit," Dr. Edmond Chan from the Canadian Pediatric Society told CTV News.
What's more, the group of experts aren't advising that pregnant or nursing women avoid allergy-inducing foods for their babies either. In fact, they say the evidence for avoidance is "weak," and moms could be putting themselves at risk for under-nutrition by omitting these foods from their diets.
Babies that have a parent or an older sibling with atopic dermatitis or food allergy asthma, there is a higher chance that the infant will have allergies, but they aren't necessarily excluded from this recommendation either. While the Canadian Pediatric Society says that parents should always talk to their child's pediatrician if they have concerns over introducing a new food, even infants that are at high risk can have these foods introduced slowly, and at the parent's comfort level.
There are also some additional precautions that parents can do to ensure their baby stays safe while introducing these high-risk foods. For example, Joelene Huber, pediatrician at St. Michael's and Sick Kids hospitals in Toronto, suggests that parents introduce new foods early in the day, that way parents can watch the child's reaction to the food throughout the day.
Signs of an allergic reaction can include:
Flushed skin or a rash
Swelling of the face, tongue or lips
Itching, hives or welts
Difficulty breathing, coughing or wheezing
Vomiting or diarrhea
Loss of consciousness
Once the new food is introduced and tolerated, the Canadian Pediatric Society adds that it is important for parents to offer the food regularly – preferably several times a week – to help maintain the baby's tolerance to the food. Prolonged and frequent feeding of high-allergy foods is believed to be just as important as introducing the food when it comes to an immunological tolerance to high-risk allergy foods.
Related Articles:
---
[ad]