As parents we sometimes get creative in the ways that we teach life lessons. But one Missouri mom and two of her family members are sitting in jail after the mock kidnapping they planned for the woman's six-year-old went waaaay to far.
According to police, mom, Elizabeth Hupp, along with the boy's grandmother Rose Brewer, his aunt Denise Kroutil, and Nathan Firoved, the aunt's co-worker, forced the six-year-old to withstand a four-hour staged kidnapping because his family thought he was being too nice to people he didn't know.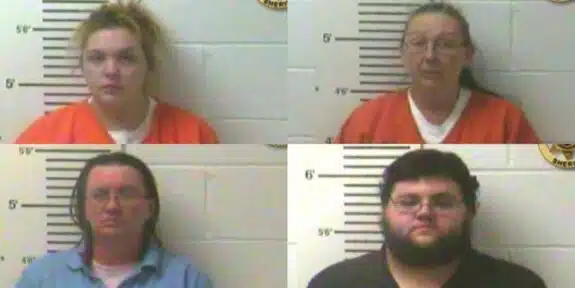 Police said the boy was lured Monday into a pickup by Firoved after getting off his school bus, tied up, threatened with a gun, taken to a basement where his pants were removed, and told he could be sold into sex slavery.
When the boy started to cry, Firoved, showed the child a gun and said he would be harmed if he didn't stop bawling. Firoved reportedly used plastic bags to tie the child's hands and feet, and covered the boy's head with his jacket so he couldn't see.
Once in the basement of his mother's house, the boy's aunt took his pants off.
According to the Sherrif's statement, "The victim remained in the basement for some time before he was unbound and told to go upstairs, where the victim's family lectured him about stranger danger."
On Wednesday school authorities contacted Family Services after learning about the terrifying event from the little boy. The sheriff's office was also called, and the child was placed into protective custody.
Firoved, Brewer, and Kroutil were charged with kidnapping, felonious restraint, and abuse/neglect of a child. They are currently in custody at Lincoln County Jail on $250,000 bond. The boy's mother, was charged with kidnapping and abuse/neglect of a child. She remains jailed on a $250,000 cash-only bond.
---