Lisa Tilbury is a 22 year-old mom to a three year-old daughter, with another baby on the way. Like every other pregnant woman, she wants what any mother would, to have a healthy pregnancy and to give birth to a happy and healthy baby. However, at her 20 week checkup, doctors noticed something wasn't right.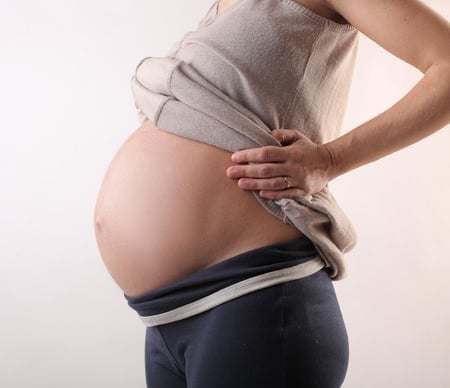 The baby was developing normally and all seemed okay, up until her 20 week ultrasound, where it was found that her unborn child has a large tumor at the top of one of it's kidneys. Doctors believe that that the prospect of this child surviving are bleak, giving the baby a 1% chance of surviving after birth. However, Lisa is not giving up on her little one. Doctors told her that she could terminate the pregnancy, but she is determined to have this baby. When told about her child's condition, Ms. Tilbury said,
"I broke down when they told us, but this baby deserves a chance to live. A consultant told me the baby was very ill and that it had a one percent chance of survival. It was devastating. A lot of people are telling me to get rid of it, but it deserves a chance. I don't think they would understand unless they go through it themselves."
The child's father, Blake Carrington, 21, and Ms. Tilbury are separated, but have been very supportive of each other through the pregnancy. Mr. Carrington admits that the whole situation seems rather surreal to him, saying,
"It's not hit me as much as my mum and Lisa. I don't think it's sunk in yet, not for me, anyway."
Carrington's mother, Helen has supported her son and Lisa through the pregnancy, admitting that the situation is very stressful for Lisa.
"Lisa is distressed. The hospital is being very helpful. We have been speaking to a representative there, which is the same as a consultant here. We are doing research and getting information. No one seems to know what it is. It would be great to find someone else in the UK that will know what it's like."
Lisa is nearing the third trimester of her pregnancy, and it is still unclear what the child's gender is and if the tumor on it's kidney is benign or cancerous. Doctors are worried that it may be neuroblastoma, which is a rare form of childhood cancer. Lisa and her family have come together to explore the options for her unborn child. To save her child's life, she is trying to raise money in order to come to the United States to visit Boston Children's Hospital, where it will cost approximately £300,000 for doctors to perform the life-saving laser surgery to remove the mass. BCH is home to the world's largest research facility in a pediatric medical center, where it is possible for them to perform the pre-natal surgery needed.
The family has come together and launched an appeal for their cause, which is called Baby Carrington, Our Little Braveheart. They are asking anyone who their story has touched to please come forward and help. Ms. Carrington added,
"We have not got that much time. But if anything happens before we manage to get to America, I'm going to put the money towards somebody else in a similar situation."
---
[ad]