What a difference a week makes.  Just last week Josh Hardy was lying in an intensive care unit in Memphis fighting as a virus took control of his body. Today it looks as though the 7-year-old is on the right path to being healthy again.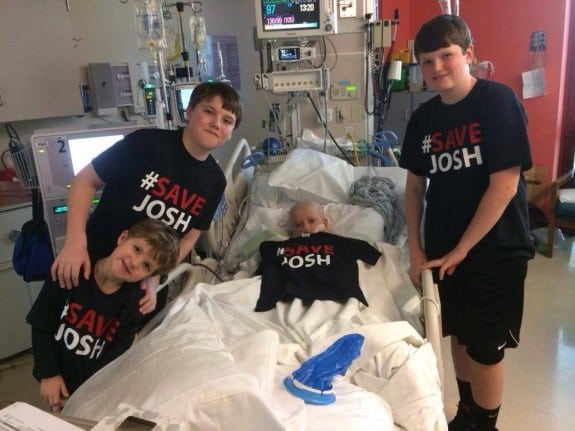 There has hardly been a day of this little boy's life that he hasn't fought to live.    He was 9 months old when he was first diagnosed with a rare form of kidney cancer. Over the years, cancer turned up in his thymus, lung, and bone marrow, and each time Josh beat it.
Now he is fighting an infection of adenovirus spreading through his body.  But after taking an intravenous drug to combat the deadly virus it was found to be destroying his kidneys.  In order to save him, and his organs, doctors suggested an oral drug, brincidofovir, but it was not approved for use by the FDA.
Twice the doctors at St. Jude's hospital requested that Josh be granted permission to use the drug, and both times the company turned them down stating that they were not "in a position to provide drug for this and other subjects in similar circumstances due to a limited inventory and our limited resources."
Friends and family launched a powerful media campaign that managed swayed the company to change their position.  On March 11th the company announced that it has reached agreement with the U.S. Food and Drug Administration (FDA) for the immediate initiation of a pilot trial of open-label brincidofovir for the treatment of adenovirus infections in immunocompromised patients.
The next day Josh received his first dose of the drug.
Miraculously Josh received doses of the drug brincidofovir Wednesday, Saturday, and Tuesday, and tests showed the level of adenovirus in his blood went down from 250,000 copies per millilitre to 367 copies per millilitre.
"We expect it will be out of his system by Tuesday," his mother, Aimee Hardy, told CNN. "I'm beside myself with how effective this drug was so quickly."
Doctors say he's also no longer has bleeding in his stomach and intestines.  His kidneys, however, may be permanently damaged.  They still aren't working and he has to undergo dialysis three times a week. The concern now is that he may be on dialysis for the rest of his life.
"What if he has to be on dialysis long-term? If he could have gotten the brincidofovir earlier, it could have been avoided. That will always bother me," Aimee said.
Now that he appears to be on the mend the family has a new challenge – lifting Josh's spirits.
As recently as last month, Josh had a "go get 'em" attitude about fighting his illness, his mother says. But now, even though he's getting better, she says he seems to be exhausted after months of being sick and lacks motivation.

"I haven't seen him smile lately," she said. "I try to get him to chant every day, 'I'm as good as new.' "
Our hearts go out to this little boy. After everything he has been through it is easy to see how he would not be able to see the positive path he is on. Hopefully he will brighten up as he starts to get stronger and realizes the hard part is behind him.
---
[ad]