In the United Kingdom, the organs of a six-day-old baby girl were donated and then transplanted into two other patients. This is considered a groundbreaking milestone for the UK where guidelines on infant organ donation are extremely prohibitive, despite the life-saving potential.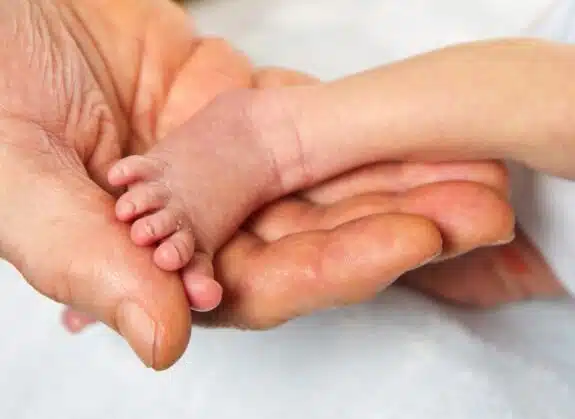 Writing in the journal Archives of Disease in Childhood, the doctors described the baby girl's case, how she was born with extremely poor health, and tests performed after birth suggested that she'd been deprived of oxygen prior to her delivery. Despite resuscitation, she suffered profound brain damage, and she wasn't expected to survive for long. Her parents—unnamed in the article—displayed "extraordinary generosity" by agreeing to donate her organs after her heart stopped beating.
Her kidneys were given to a patient suffering from renal failure. Her liver cells were transfused to another patient who was suffering from liver failure. Doctors hope that both surgeries will help to transform the lives of the recipients.
"We are pleased the first transplant of organs from a newborn in the UK was a success, and we praise the brave decision of the family to donate their baby's organs," Professor James Neuberger of the NHS Blood and Transplant told BBC News.
Though we generally think of organ donations being needed by adults, or, at the very least, older children, the stark reality is that there are infants and very young children that sometimes need life-saving organ donations. The crux of the situation is that size is often crucial in very small organ recipients, and this can make for a very touchy situation.
Not only are the organs difficult to work with because of their size, the sheer number of parents willing to donate the organs of their children are nearly non-existent. And, even if there were more parents willing to do so,  clinicians in the UK aren't allowed to declare brain death in a baby under two months of age, making it very difficult to ensure that organs are donated while still viable.
But the parents of the newborn could see the importance; they found a way to create something positive out of their own personal tragedy.
"The sad reality is for everybody to get the lifesaving transplant they are desperately in need of, more families who are facing the tragic loss of their young child will need to agree to donation," Neuberger said.
"This turned out to be a positive thing for the family. They could see something positive out of a negative experience," Dr. Gaurav Atreja, who was also involved in the transplant, told BBC. "We hope that neonatal units across the UK will actively start thinking about this noble cause."
Neonatal units aren't the only ones being asked to consider more infant donations; the Royal College of Pediatrics and Child Health is planning to review the current guidelines regarding infant death. They're expected to report back in March.
Related Articles:
---