When Kristen and Theo Smith started out on their family vacation, their only fears were that little Zoe would run circles around them.
"Before we left for Idaho, Zoe was already taking steps," Kirsten wrote in her email to East Idaho News. "We were so sure she was going to be walking all around the house that we bought a baby gate."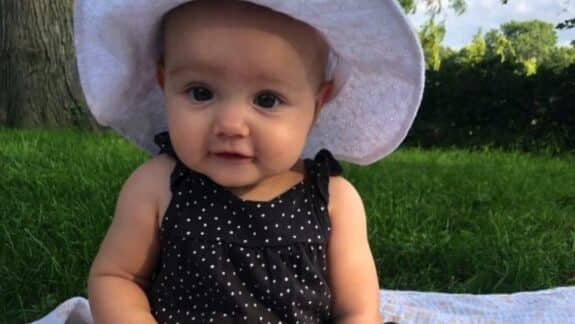 Sadly, the family would soon learn they were facing an unimaginable threat . . .
"Not only did she not walk, but she stopped pulling herself up or even crawling. At first, we thought she was just adjusting to being in a new place, but after a week it only got worse, not better," Kristen said. "I couldn't set her down without her crying. She would wake up in the middle of the night crying like she was in pain, and she had scratched herself all over her neck."
Kristen and Theo became concerned. A trip to the doctor seemed warranted.
"We took her to the doctor about two weeks after her symptoms started," Kristen said. "We finally decided this wasn't anxiety about a new place, but that she might be sick. It was so sad for us as parents to see this radical shift in behavior and not have any answers."
The first physician-diagnosed Zoe with an ear infection. She was sent home with a round of antibiotics, but the girl's condition did not improve. Her parents decided to visit Eastern Idaho Regional Medical Center.
"It's not medical to say you have a 'gut feeling' that something is wrong, but we know our child and she wasn't doing what was normal for her. Zoe wasn't sleeping well, had low-grade fevers, didn't want to play with her toys, and needed to constantly be held," Kristen said. "The doctor did some blood work and noticed her white blood cells were through the roof."
That test concerned doctors enough to airlift Zoe over to Primary Children's Medical Center in Salt Lake City. Soon after her arrival, Kristen and Theo received frightening news; their little girl had a rare and aggressive type of blood cancer—chronic myeloid leukemia (CML).
CML is rare in children, as are its symptoms of itchiness, bone pain, fatigue, abdominal discomfort, weight loss, and fatigue. And the treatment for it is extremely aggressive. It includes several rounds of chemotherapy to reduce the high number of blasts (excessive and immature white blood cells) contained within the bone marrow.
"Zoe's first month of chemo was not easy," she said. "She was often nauseous and tired. At 13 months old she acted more like a 5-month-old. She couldn't do a lot physically and she spent a lot of time sleeping. … Still, every day she would perk up at some point and be able to smile and laugh with us. It was always such a blessing to see that."
Zoe also needs a bone marrow transplant, but because of her ethnicity (white and Ashkenazi Jewish), there are very few eligible donors currently on the registry. Her parents are now pleading with anyone and everyone to get themselves checked to see if they might be a match for Zoe. Their hope is that someone with a similar ethnicity will turn up, and that other lives might be saved in the process.
"I'm begging people to sign up with Be The Match to see if they are a possible donor," Kirsten said. "Even if you can't be a match for Zoe, you could be a match for someone else, someone who deserves a chance to live. It's so easy to register and you could save a life. If for some reason people are unable to register as a donor please consider donating blood. These are amazing easy ways to step up and do good for other people."
Right now, Zoe is going through her second round of chemo. Mom says she's handling this round better . . . but the little girl still isn't walking. She's been delayed because of all the symptoms of her illness and the side effects of her chemo. Still, they're holding onto hope.
She's smiling and playing for most of the day, which gives us a lot of hope!" Kirsten said. "I can honestly say I'm so happy we were with family when we got Zoe's cancer diagnosis. We've been blessed to be around people who have supported us in so many ways during this time."
But hope can only hold them over for so long.
"It's scary to know that finding a match is hard," Kirsten said. "This is our baby, and we want her to have a chance to grow up! We want her to have a future, and a transplant gives her that opportunity."
You can support Zoe through her GoFundMe.