While onboard the Norwegian Joy last week we had the chance to try out their Speedway. Since booking the trip, the go-karts were one of the options onboard my kids were really excited about. I will admit I wanted to also see how they make it happen and if it was truly a good race track.
I was impressed to see how robust the track was and how long they were able to race.
Priced at $15 for eight minutes, this go-kart track is a first for a cruise line. Outside of Joy, Bliss and encore no other cruise ship has an experience like this for vacationers.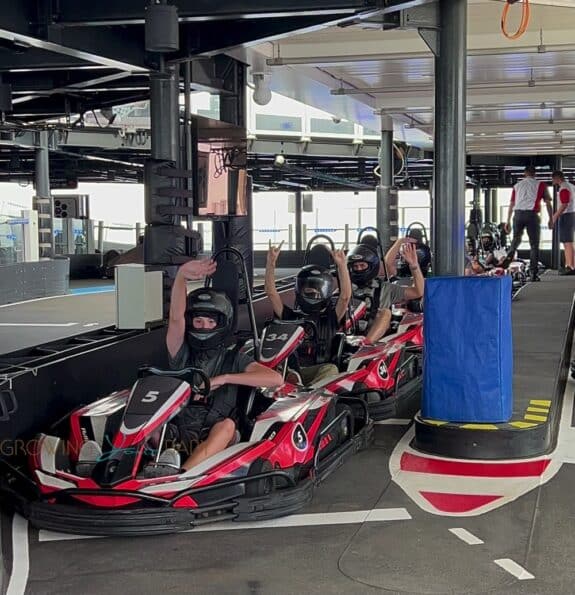 These cars were designed with 4 speeds for drivers of all levels and can reach up to 30 miles per hour. Racers can also use a turbo boost feature to get ahead of their competitors.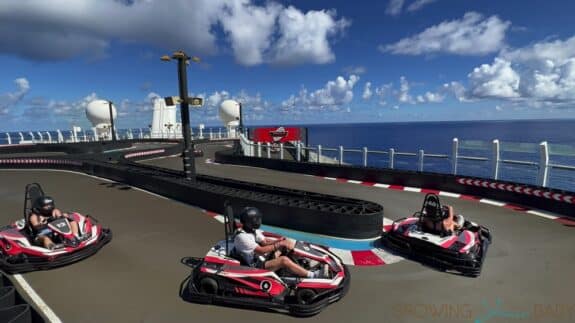 Because there is a variety of experience levels on the course at any given time there can be a lot of crashes which holds the race up. The Norwegian crew will give you a warning after two crashes that you will be moved off the track if you crash a third time.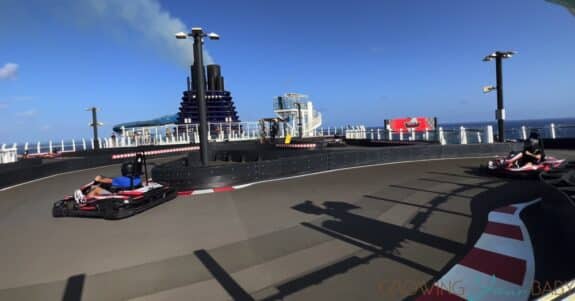 Whether you choose to race during the day or at night when the track is lit up, you are bound to have a blast! The track at night was pretty cool. It changes colour as drivers make their way around.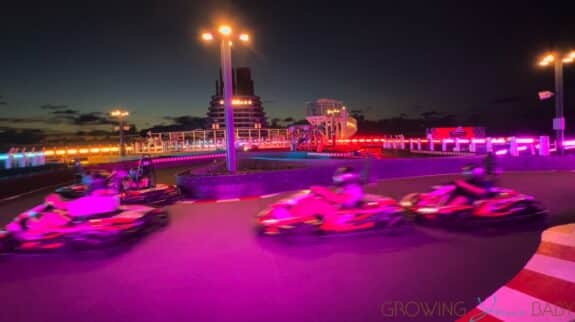 It was definitely a highlight for us and our kids went a few times during our week on board. There is also a leader board so your family can see who won from their round. My husband took one race and my youngest son took the next. The competition was high among my three and they loved that the track was wide enough to be able to pass each other.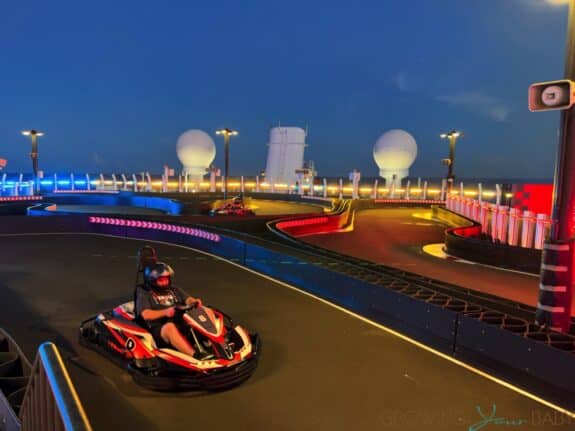 Riders do need to wear closed-toe shoes and are required to be 55″ with the ability to drive alone. The Speedway runs two sessions – 2 drivers and single driver so check with them directly for the time for each. From our experience, the track started around 3:30-6:30 for 2 driver races and 6:30 pm for single-driver races. This may be changed based on the ship and itinerary.
Reservations do need to be made in advance due to the popularity.
If you have someone in your party who you think may want to race a lot Norwegian offers The Ultimate Speedway Package for $199 which allows you to use the race track as much as you like during scheduled opening hours for unlimited use during a 7-day sailing.