For our last trip of the Summer, we chose Quebec City. About 8 hours from our home, this incredible city is filled with Canadian history that I wanted my kids to learn firsthand.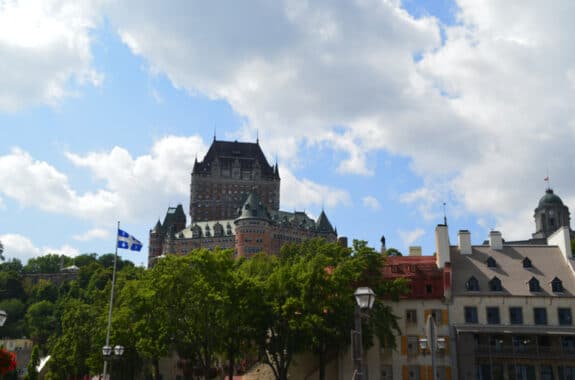 When researching where we would stay, I was looking for a hotel that was within walking distance to most of the popular sights, had a pool for the kids, 3 beds(my boys don't want to share anymore), and stayed within my nightly budget.
We settled on the Hôtel Palace Royal Centre-Ville. Having never been to Quebec City I was unsure how far this hotel would be from all of the landmarks we were planning to visit and the restaurants on our list. It turns out it is perfectly positioned for families who are looking to visit the city.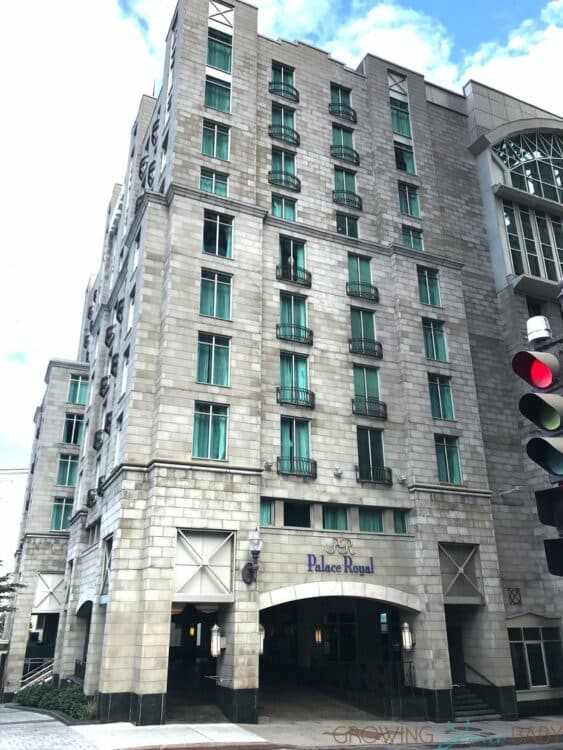 Parking is available onsite for $24 a day(within and out privileges) but everything in the city is walkable.
We were assigned room 510.
The main entry opens up to the living room which is furnished with a desk, couch with pull-out bed, lounge chair, and television.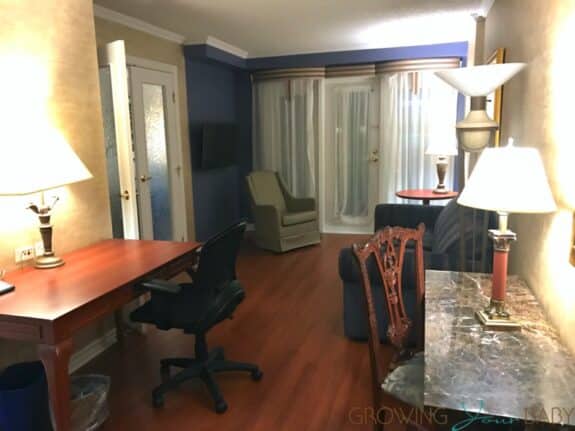 This space has a door that opens up to a balcony where you have a view of the atrium, pool, and spa.
Along the wall, there is a wet bar with a coffee maker, microwave, fridge, and safe.
The main bedroom came with 2 queen beds, a lounge chair, and a television.
Between both spaces, there is a bathroom that is equipped with a bathtub/shower combo.
This room is quite spacious and perfect for our family. Now that my boys are getting older they would like their own space in the evening to watch their Ipads, or chat with friends from home. The living room gives them that. The second TV was perfect because we could each choose our own shows to watch.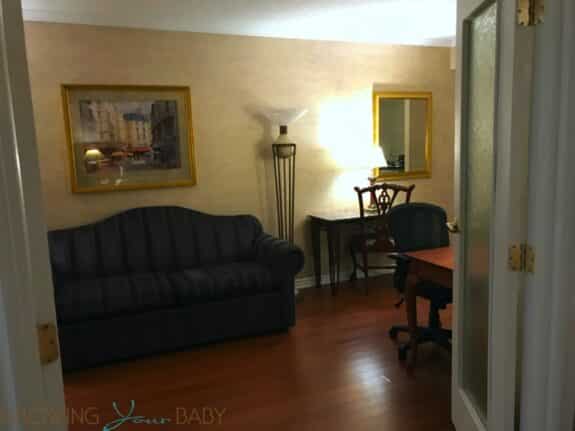 One fun perk of our stay was a performer the hotel had in the atrium. He played a variety of music for a couple of hours and everyone was out dancing and having a great time on their balconies.
The hotel also has a steakhouse – Beffroi Steakhouse – attached with many fantastic options like aged prime rib, surf & turf, salmon, fish & chips, ribs, lamb, and duck. They do offer a breakfast with crepes, omelets and sandwiches and have a kids menu that includes mac & cheese, spaghetti and salmon.