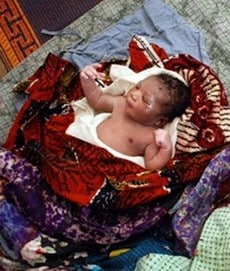 A farm dog in Ghana has been dubbed the 'hero hound' after he was found under a bridge keeping an abandoned baby safe.
Ghanaweb reports that a couple weeks ago a search party set out to find the dog, not the baby, after it's owner was concerned that her pet hadn't returned home in the evening. After spending most of the night tracking the hound through nearby fields and woods, the searchers were surprising when they spotted the furry friend under a bridge with an unlikely companion. The dog was cuddled right up against a baby that had been abandoned protecting him from danger and keeping him warm.
He is being credited with keeping the new newborn alive. The infant is said to be in good health, apart from the infection in his umbilical cord, which was uncut and still attached to the baby.
Authorities can't be sure what had led to the baby's desertion by his mother, but they have speculated that the parents were teenagers who couldn't take care of the baby.
Thankfully he had a guardian angel with four paws!  The baby is currently in the custody of a local health directorate until new arrangements can be made for him.
---
[ad]