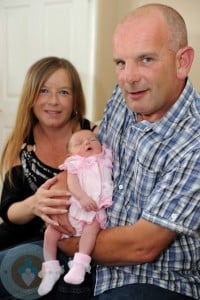 A dad-to-be got the test of his life when he was forced to deliver his baby, who was arriving breech and help her take her first breath when the baby didn't breathe on her own.
43 year old Andy Greene a roofer by profession had only been at work for two hours when he got a frantic call from his partner Tammy Whiteley who thought she was going into labor.
Only eight miles away he immediately rushed home where he timed the contractions to be 40 second apart. He called the midwife just as the baby started coming out and it was then that they realised that the baby was in a breech position with her feet coming out first instead of her head.
"I had the phone to my ear and was trying to listen to what the midwife was saying,"he said. "At first we thought it was her head we could see. I looked and realised she was breech. I told the midwife and then, because I don't have much reception in the house, the phone cut out."
With the phone cut out, Andy was on his own to deliver his daughter.
'I just threw the phone down and she came out as far as her lower arms, but then got stuck,' he said. 'I had to gradually work around until at least one arm was free."
Just 20 minutes after he left work, Andy was holding in his arms Evie Summer Marie Greene weighing 6lbs 8oz at 8.14am, Tuesday morning.
But all did not seem right with the newborn. She had turned blue and was not breathing.
"When she came out she was blue. I started to rub her back and pat her and then she coughed and started to scream," said Andy.
Later Andy said neither Tammy nor he had any idea that the baby would arrive so early. He had left for work as usual at 6.40 am not knowing that he would be delivering his baby daughter in a couple of hours.
Tammy said, "I did not realise I was having contractions because there was no break between them. It all happened so fast. Andy was brilliant."
The midwife, who could not help Andy because of the disconnected call, was all praises for the new father.
"She said it was difficult enough to be there on your own with your partner, without having to deliver a breech baby as well. Everyone has been giving me praise, but something just kicks in naturally. She is brilliant. Evie is perfect in every way," said the beaming father.
After an adventurous arrival into the world, Evie is at home enjoying the attention of her elder siblings, four sisters and one brother.
Related Articles:
---
[ad]