Call it absentmindedness, carelessness, or both, but in a shocking incident, a father left his 2-year-old son locked in the back of his car for two hours while he was at work. The temperature was a scorching 85 degrees outside and it wasn't until a co-worker called 911 that crews were able to free the baby.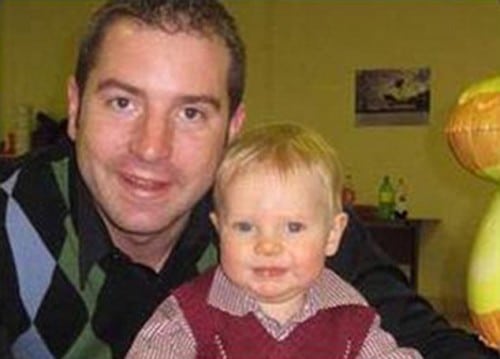 31-year-old Kenneth Robinson had strapped his two-year-old son Brady in the back seat of his black sedan to drop him off at daycare before going to work. But the father forgot and instead drove straight to work.
The toddler was strapped inside for almost two hours in the scorching heat, with the outside temperature reaching 85 degrees and the temperature inside the car reaching more than 100 degrees. Even during this time, Kenneth did not remember his locked-up son.
A co-worker noticed the baby boy inside and called 911 immediately.
'I need an ambulance at Patton-Chestnut and Binder ASAP. A child was left in the car,' the co-worker said in the frantic call, 'Is he breathing? Is he breathing? Yes, he's breathing.'
Witnesses say the boy was alert but red-faced when he was taken out.  He was rushed to the Saint Joseph Hospital for treatment. Amanda Robinson the toddler's mom also rushed to the hospital where the boy remained overnight.
Police took Kenneth into custody where he pleaded not guilty at his arraignment on Wednesday. The couple also has a six-week-old baby boy. He faces a felony charge of wanton endangerment(also known as criminal recklessness) and is due back in court on Tuesday for a preliminary hearing.
Authorities are not taking the incident lightly. London Police Department detective Stacy Anderkin said that if had just been another half an hour, the outcome would have been very different.
"It's easy in today's busy lifestyles to get distracted but your children have to come first,' she said.  It's not forgetting your keys or a report in the car, we are talking about a child's life. If it had been another 20-30 minutes it could have been a totally different outcome. The inside temperature of the car heats up so quickly. It doesn't have to be 99 degrees outside, even at 80 degrees the car can quickly heat up to 115-120 degrees with all the windows rolled up. It is very concerning."
She also added though that Kenneth was extremely upset about the incident.
This is the second such incident reported in the last few weeks. But unlike baby Brady, eight-month-old Lincoln was not this lucky. His father had left him in the car for hours in Lousiville's scorching heat when he too forgot to drop the baby at a daycare center and went to work.
At the end of the day when the father returned to his car, he found baby Lincoln still inside. He drove five miles to his home where his wife, a physician tried to resurrect their baby. The boy however remained lifeless.
The police have treated this incident as an accident and no charges have been laid.
Both these incidents happened in Kentucky where 18 infants died of heatstroke between 1990 and 2010 after being left in a hot car. In 54 percent of cases, the child was simply forgotten by the driver and left in the vehicle. In 31 per cent of cases, the child got into the vehicle of their own accord and got trapped and in 12 percent, the child was knowingly left inside the vehicle.
In 2011 33 children across the US died because they were left behind in a scorching car.  Shockingly, the tragic deaths of five infants have already occurred due to this negligence this year.
According to Jan Null, a researcher in the Department of Geosciences at San Francisco State University the interior of a car can reach 99 degrees in just ten minutes on an 80-degree day. Even on a relatively cool 60 degrees, the reflection of the sun's rays inside the car can raise the temperature to 100 degrees.
Babies are at a higher risk of getting heat stroke because unlike adults they cannot regulate their body heat and do not sweat as much.
Ronald Paul, chief of pediatric emergency medicine at Kosair Children's Hospital in Kentucky says that a baby's temperature rises three to five times faster than an adult's. Severe heatstroke causes kidney and heart failure as well as brain damage.
It is a stark reminder to parents to never be too casual about leaving kids in the car. While baby Brady was rescued alive, others might not be that lucky.
<