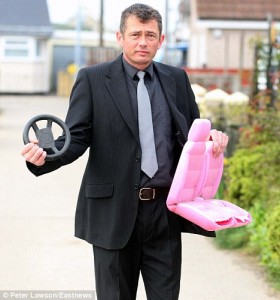 A UK father has been banned from driving for three years after he was arrested for driving his daughter's pink Barbie car while drunk. Paul Hutton, age 40, was attempting to drive the battery operated toy to a friend's house when arrested.
Hutton admitted that he looked like a "complete twit" squeezing his 6 foot tall body into the 4 foot by 2 foot sized car. He was given a 12-month conditional discharge and banned from driving for the next three years. The divorced father of four said he was surprised that the officers arrested him at all.
"It needn't have gone to court. Possibly the police arrested me for something to tell the grandchildren," he says.
The toy car was found abandoned by Hutton nearly ten years ago. Since then he has kept it to tinker on in his spare time. Hutton is a former RAF aeronautical engineer who studies electric engineering at the Colchester Institute. Most recently he and his 17-year-old son had been rebuilding it as part of his son's mechanic course. They modified the toy to have larger wheels and painted it white instead of the familiar pin color.
On March 28, at about 5:30 in the morning, a very drunk Hutton decided to drive the toy car to a friend's house only 500 yards away. He was spotted by police however, who charged him with drunk driving. Because he had a previous drunk driving charge, Hutton was banned from driving for 3 years. Hutton said he didn't realize he could be arrested for driving the toy car.
"I knew that it was daft but I didn't realise it was a criminal thing to do," he told reporters.
At the time of his arrest, the not so smart dad had a blood alcohol level of 89mg of alcohol per 100ml of blood, more than twice the 35mg limit. In addition to his suspension he also had to pay £85 in fines. – Summer, staff writer
Related Articles:
---