In honor of Father's Day, we'd like a moment to talk about dads. After all, they're just as important as mothers in the lives of our children according to a recent study, and in some situations, even more.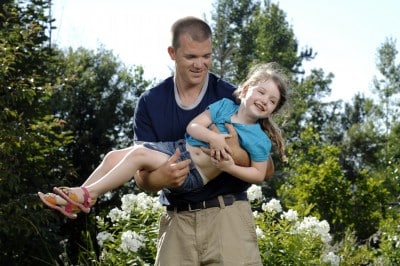 In a long-term international study that evaluated the relationships and roles of fathers in nearly 11,000 families, researchers found that a father's love can contribute just as much – sometimes more – to the development of a child than a mother's love. They also found that perceived rejection from a father can create an even bigger ripple effect in the lives of children than a perceived rejection from a mother. This link is heightened in cases in which the child views his or her father as a man of honor or prestige.
"In our half-century of international research, we've not found any other class of experience that has as strong and consistent an effect on personality as does the experience of rejection – especially by parents in childhood," said co-author of the study, Ronald Rohner. "In many instances, fathers are as important developmentally as mothers. In some instances, they turn out the be even more important developmentally than mothers. And what we find extraordinary is that, sometimes, a mother's influence drops out altogether."
When looking at the data figures, researchers found that children who had perceived acceptance from their fathers were significantly less likely to display hostility and feelings of inadequacy. Researchers also found that children who felt accepted by their fathers were more likely to have higher self-esteem, better emotional stability, independence, and a positive view of the world.
On the other end of the spectrum – children who had a perceived rejection from their fathers – were more likely to have problems with anger, aggression, lower self-esteem, emotional instability, unresponsiveness, a negative view of the world, and feelings of inadequacy.
"There's a very consistent worldwide effect of impaired psychological adjustment wherever kids perceive themselves to be rejected by Mom or Dad. And that effect shows up more significantly for dads than for moms," Rohner said. "We've assumed for years that all kids need for normal, healthy development is a loving relationship with Mom, and that dads are primarily there as financial supports for the family. We now see how fundamentally wrong that is."
Gary Direnfeld, a social worker from Dundas, Ontario, hopes that this study will help alleviate some of the pressure that mothers feel and the pressure that is placed on mothers when it comes to the behavior and emotional stability of a child. He also hopes that this will help encourage dads to take more initiative when it comes to parenting their children.
"We all want well-rounded children. Well, children are a product of two parents and both should be meaningfully involved wherever possible," Direnfeld says.
But dads shouldn't have to parent like mothers. Each parent should behave a way that is true to their nature. For example, Neil Campbell, executive director of the Canadian fatherhood initiative DadsCan, says that fathers often hold babies differently, they play with their toddlers differently, and ultimately, form bonds with their children that are different from the bonds that mothers form.
"Men have their own way…and a child thrives on that," Campbell said. "The message [to dads] is to be there and be involved. You can do it."
Happy Father's Day to all the dads out there. You are important. You are needed. And you are so loved.
Related Articles:
---