In a move that will help consumers know the exact kind of protection offered by sunscreens, the FDA has set up a new rule where sunscreen labels will carry a 'broad spectrum' label to show that they offer protection against UVA radiation as well as UVB radiation.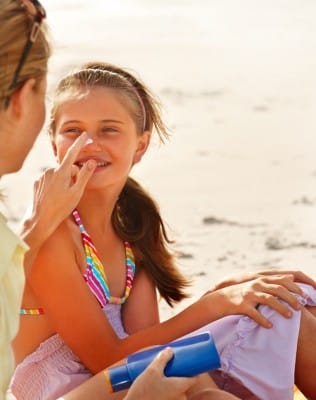 Presently in the US the products carrying label broad spectrum do not necessarily protect against UVA. But starting summer of 2012 the label will be present only in those products that do protect against UVA as well as UVB radiations.
Speaking about the long awaited rule Janet Woodcock, MD, director of the FDA center for drug evaluation said, ""This is a very significant day for us. The FDA is announcing major changes in how sunscreens are regulated in the U.S. This will allow people to make better decisions and better protect themselves from sun-induced damage."
The old SPF designation seen on product labels will still be present showing how much a product protects against UVB radiations. But with the 'broad spectrum' term added to it, will also ensure users that the product also protects against the sun's UVA radiations. Usually, the higher the SPF levels, – up to SPF 50, in sunscreen the better it is for protection against UVA and UVB radiations.
UVB exposure is what causes sunburn and may lead to skin cancer. The UVA is less intense but 30 to 50 times more prevalent and can penetrate to deeper layers of the skin. It is the major radiation that causes deeper tanning, and skin aging and may lead to skin cancer as well.
In 2007 the FDA proposed a zero to four-star system to gauge the protection offered by sunscreen, but it is finally the 'broad spectrum' label that has been approved although it is less specific. The FDA hopes that with the rise in the SPF level of a product UVA protection is automatically bound to increase.
The new label will also carry a number of other relevant information,
The sunscreen labels will have information whether the product is water resistant or not and if it is, then how long the effect will be there after a person swims or sweats. The label will carry a line saying if it gives 40 or 80 minutes of protection.
If the SPF rating is 15 or higher than the manufacturers can claim in the label that the product protects against skin cancer.
If it has a broad spectrum designation than the label can claim that it protects against skin aging related to sun damage.
Products will not be allowed to claim that they totally 'block' the sun, prevent skin cancer or aging.
Products can also not claim that their affect lasts for more than two hours unless they get it tested and approved by FDA.
Sunscreens will now carry a 'drug facts' box like other over-the-counter medicines.
The product will also carry a safety warning like if the product has SPF 15 or less it will have to state that it does not protect against skin cancer.
As the FDA believes that there is no convincing data available on whether SPF higher than 50 is useful, products will carry the highest label of SPF 50+ and not any higher than that. Though manufacturers will be allowed to present data if they believe that some populations can benefit from SPF higher than 50.
For spray sunscreen manufacturers the FDA has asked them to prove how well the product works. Consumers should know how much of the spray is necessary to give them enough protection. They will also have to prove that accidental inhalation of the product will not harm children or adults.
Although these new rules are a big step forward, the Environmental Working Group is still critical of the FDA. They said in a statement,
"It's now been 33 years since FDA first announced plans to implement safety standards for sunscreens," the Environmental Working Group said in a statement. "When FDA drags its feet for more than three decades to set up some standards for the sunscreen industry, it's clearly not the federal government's finest effort."
The Consumer Union though is happy with the new rules,
"Today's announcement will take a lot of the guesswork out of reading sunscreen labels," Michael Hansen, PhD, Consumers Union senior scientist said in a statement. "The FDA's introduction of a broad-spectrum test and associated labeling will require the sunscreen makers to first prove that their product provides such protection, and further, it will weed out the sunscreens that make broad spectrum claims without any evidence."
Speaking on the safety of the products themselves Woodcock said,
"We are not at this time putting out any alerts or concerns. We feel some of these issues require further investigation. But at this time, the benefits of using sunscreens far outweigh the potential harms. People should use sunscreens if exposed to the sun."
Ronald L. Moy, MD, president of the American Academy of Dermatology (AAD), lauded the efforts of the FDA and hoped that the new label will give more consistent information to consumers.
He however pointed out that while the FDA recommends broad-spectrum, water-resistant sunscreens with an SPF of 15 or higher the AAD recommends broad-spectrum, water-resistant sunscreens with an SPF of at least 30.
He believes it is important to apply sunscreens every two hours with at least a golf-ball-sized ounce applied by an average adult.
He also added as a warning that sunscreens alone cannot protect people from skin cancer. For outdoors it is also important to wear proper clothing, and sunglasses and remain in shaded areas whenever possible. He also strongly warns against the use of tanning beds.
Related Articles:
---