Just months after the FDA issued a warning about the use of medications that contain codeine and tramadol with children they have cautioned parents about cough and cold medicines containing opioid ingredients, such as codeine or hydrocodone.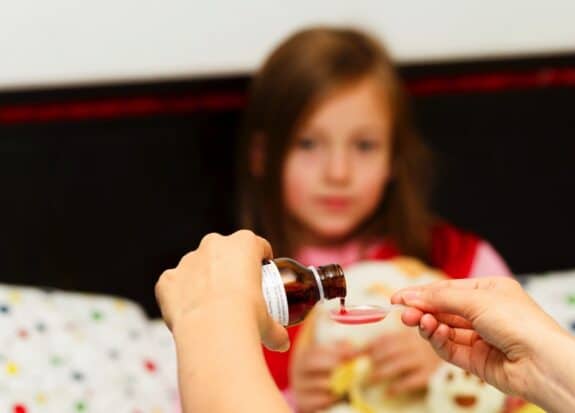 The U.S. Food and Drug Administration announced on Thursday that it is requiring safety labeling changes to limit the use of prescription opioid cough and cold medicines containing codeine or hydrocodone in children younger than 18 years old because the serious risks of these medicines outweigh their potential benefits in this population. After safety labeling changes are made, these products will be labeled for use only in adults aged 18 years and older. The medications will also be updated with safety information for adult use – including an expanded Boxed Warning ? notifying about the risks of misuse, abuse, addiction, overdose and death, and slowed or difficult breathing that can result from exposure to codeine or hydrocodone.
"Given the epidemic of opioid addiction, we're concerned about unnecessary exposure to opioids, especially in young children. We know that any exposure to opioid drugs can lead to future addiction. It's become clear that the use of prescription, opioid-containing medicines to treat cough and cold in children comes with serious risks that don't justify their use in this vulnerable population," said FDA Commissioner Scott Gottlieb, M.D. "It's critical that we protect children from unnecessary exposure to prescription cough medicines containing codeine or hydrocodone. At the same time we're taking steps to help reassure parents that treating the common cough and cold is possible without using opioid-containing products."
The new labeling will provide safety warnings on these products that are consistent with the labeling of other opioid-containing drug products. Information about these required safety labeling changes are being made available to parents and health care professionals through a Drug Safety Communication.
The new required safety labeling changes announced today are based on an extensive review of available data and expert advice shared at meetings to explore the pediatric use of opioid-containing cough and cold products. During a roundtable,  experts indicated that although some pediatric cough symptoms do require treatment, cough due to a cold or upper respiratory infection typically does not require treatment. They also noted the risks of using prescription opioid cough products in children of all ages generally outweigh the potential benefits.
Some of the common side effects of opioids include drowsiness, dizziness, nausea, vomiting, constipation, shortness of breath and headache. If parents of children are prescribed a cough and cold medicine containing codeine or hydrocodone they are encouraged to talk to their child's health care professional about other treatment options.
Related Articles: