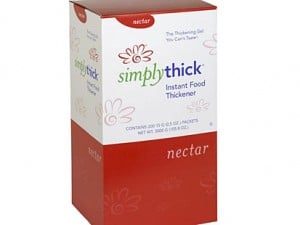 Last May, the FDA issued a warning advisory regarding the use of a thickening agent, SimplyThick. Originally, the warning was only for premature infants, but the FDA has now extended that warning to all infants after seven babies died. All seven infants were given SimplyThick, reportedly according to package directions.
SimplyThick is a thickening agent designed to thicken food so it can be swallowed and kept down. For infants, it is used to help infants keep from spitting their food back up. Parents can mix the agent with formula or breast milk. Purchased at the pharmacy counter, SimplyThick comes in either individual packets or 64-ounce bottles.
The extended warning was given after 22 infants developed a condition known as necrotizing enterocolitis (NEC). NEC is a medical condition in which intestinal tissue becomes inflamed and then dies. The cause of the condition is unknown, but it is most commonly seen in premature infants. Twenty-one of the infants who developed NEC after receiving NEC were born prematurely, but one was not.
The FDA says they were first alerted to the problem after two reports were filed with their MedWatch Safety Information and Adverse Event Reporting Program. They now believe that more study needs to be done to determine if the NEC cases are actually linked to SimplyThick and other thickening agents. At this time, however, they feel that parents and health care professionals should be warned about the potential health risks.
SimplyThick agrees with the FDA at this time; they are encouraging parents and caregivers to follow the FDA recommendations that "anyone involved in the care of a baby be aware of the potential risk before deciding whether to feed SimplyThick to infants of any age."
CEO of SimplyThick, John Holahan, gave an official statement:
"If you are currently giving SimplyThick to your infant, please consult your child's health care professional. We continue to advise following FDA's previous recommendation that SimplyThick brand thickener not be used or given to babies who were born before 37 weeks. We hope that this does not cause any inconvenience to medical professionals or our customers but, as you can understand, SimplyThick wants to proceed with all due caution."
No warning has been given regarding SimplyThick use with adults or older children at this time.
Related Articles:
---
[ad]