The Food and Drug Administration is warning parents and health care providers to stop using the SimplyThick additive in breast milk and formula of premature babies after the deaths of two infants who were given it.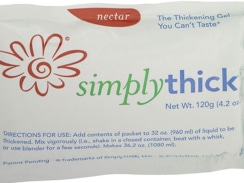 The agency is investigating 15 cases of necrotizing enterocolitis from at least four medical centers around the U.S. SimplyThick, a brand of thickening agent—available to consumers and medical centers—to help manage swallowing difficulties, is most commonly given to premature babies who still are in the hospital.
The FDA says this situation is unusual because NEC most often occurs in babies while they are in the hospital early in their premature journey. In this case some of the ill babies that FDA is aware of got sick after they had been discharged from the hospital and sent home on a feeding regimen that included SimplyThick.
At this time it is not known what about SimplyThick is making babies sick. FDA is actively investigating the link between SimplyThick and these illnesses and deaths.

In the meantime, adds Klontz, parents should stop using the product even if their babies don't appear to be sick. "Why take the risk?" he asks.
Symptoms may include a bloated abdominal area, feeding intolerance, greenish-tinged vomiting and bloody stools.
Related Articles: