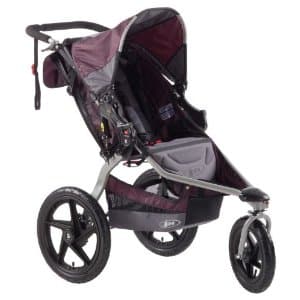 With an appreciation for getting active outdoors B.O.B has been a leader in the industry with their fun and functional Strollers and Bike Trailers.  My husband and I are very active and we live in an area that gives us the opportunity to spend a lot of time enjoying the rural scenery, and while we love this, we have found it challenging to find a stroller that would meet our "strolling" demands.  We recently had the opportunity to test out the B.O.B Revolution SE and were impressed by the functionality and versatility!
Getting started:
I'm always a little worried as I open the box for a new stroller – will it be a few simple pieces or will I have to clear my calendar for a day to tackle assembly?  I was pleasantly surprised when we opened the Revolution SE box… all we had to do was simply attach the three wheels, open the frame and we were ready to stroll!  It took us a total of 12 minutes to complete the entire assembly.
Features:
The Revolution SE (on its own) is designed for children up to aprox. 6 months to 70 lbs. However, if you purchase the optional car seat adapter you'll be able to enjoy the revolution from birth until well beyond when you'll "need it" (70 lbs is the equiv. of an average 8 year old)!!   The car seat adapter(not included) is compatible with many popular car seat brands on the market including Graco, Peg Perego and Chicco.
The features available on the Revolution SE are numerous but by far my favorite features are the maneuverability and ability to handle ANY terrain!  It features a swiveling front wheel that allows for unbelievable maneuverability meaning you can practically turn on a dime but when you're looking to jog or "off-road" it locks forward increasing the stability.
The coil spring and shock absorbers provide three inches of wheel travel. Adjustable shock release knobs allow for two shock positions to fine-tune suspension for varying occupants and cargo. These coupled with the high-impact polymer composite wheels with pneumatic tires and tubes ensure your precious cargo will be comfortable and protected.  Living in an area with a lot of gravel roads and cobblestone shopping areas I find most strollers bounce and shake my son around on the rough conditions – I was thrilled that the state-of-the art adjustable suspension system on the Revolution provided an unmatchable smooth ride.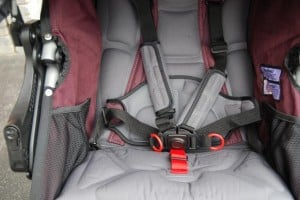 One of the first things I noted about the seat of the Revolution is all the extra padding – the seat is ultra padded and cushiony featuring a five-point padded harness that will help keep your wee one snug and secure.
The seat is also reclines, down to 70° from vertical with two adjustable straps, making it comfortable for a napping child.  While I love the recline option, I really wish it was more simple.  I haven't been able to master adjusting both of the straps at the same time so I tend to have to lower on one side then adjust the other.  It is a little awkward to master – having a one handed recline would really make it easier and would help with not waking a sleeping baby.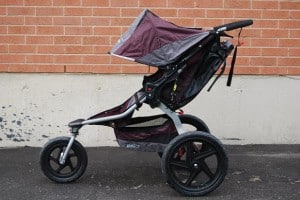 Another favorite feature of mine is the huge multi-position canopy!  It works on a 5 position toggle system with a 125° range of coverage provides ample protection from the elements.  I've used it in wind, rain and snow and my son was oblivious to the nasty conditions.  A bonus for parents is the peek-a-boo window which allows you to sneak a peek at your child to see what they are up to.
In Use:
The frame unfolds easily, simply unclip the lock, lift the red "frame release handle", then lift the handlebar up and back until it locks into position, you'll know it's in position because you'll hear it snap into place.
The handlebar is padded for your comfort.  It also sports a double duty wrist strap that allows you to secure the stroller when strolling (which is a blessing when jogging or going down hills to give you peace of mind), and when not strolling it is used as a fold lock.
While I think that the Revolution SE is ideal for everyday use, because its 25lbs and rather large I wouldn't recommend it for travel.  That being said we have taken it on a number of road trips where we knew we'd be on rough terrain and I was thankful that we had it.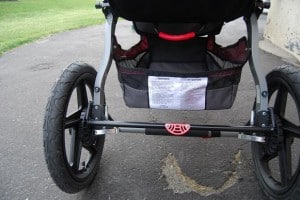 The parking brake is very easy to use; you can simply press the brake bar down with your foot to lock into place.  To release, simply lift up on the red foot pedal with your foot until the brake bar springs up into the fully unlocked position.  Having a braking system that can be activated with your foot is very handy, as a parent your hands are full 75% of the time so being able to easily maneuver the brake system with a free appendage is a bonus.
As with most strollers B.O.B recommends that should you have any accidents on the fabric that you sponge clean the area with a solution of lukewarm water and mild soap. Rinse thoroughly with clean water to remove all soap and allow to dry.  They recommend that you do not use detergent.
The storage on the Revolution SE is better than most.  I used the cargo basked underneath the seat to hold pretty much everything we'd need for a day out and still had room for extra things we picked up along the way.  I love the large pocket on the seatback and I use it for my wallet and mobile phone, I hate when I have to dig around in my diaper bag for either of these items so to have them ready and available in a split second is wonderful!  The seat also has 2 interior mesh pockets if for smaller items.
When I first received the Revolution SE I'd be lying if I said I wasn't overwhelmed with the entire various stroller adjustments listed in the manual.  I thought to myself how on earth will I ever remember all of this, my husband gave me an eye roll and then proceeded to show me how simple the adjustments are and what a difference they make in the strolling experience.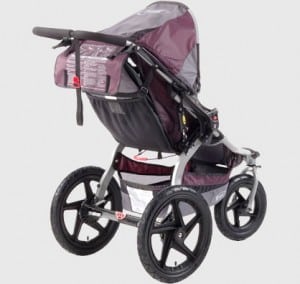 You can easily adjust from walking mode to jogging mode by sliding the swivel knob (up is walking mode and down is jogging mode) – it's important that you ensure you are in the jogging mode when jogging as it provides better control and stability when moving at a faster pace.  You can adjust the tire pressure (which I didn't do) but I'm told that this can make a real difference when trying to trudge through snow conditions.  You can also adjust the tracking (can be compared to your car alignment) – if the stroller pulls left or right when the front wheel is in job mode you can turn the tracking knob until it's perfect again – I love this feature!  I have another brand of stroller that always pulls to the right… which means that my right arm gets tired pushing it, and in turn I rarely (if ever) use that stroller anymore.  Finally you can select the shock setting; position 1 is designed for a capacity of 0-40 lbs. and position 2 41-70 lbs.
To fold the Revolution SE simply set the parking brake into the locked position, squeeze both handlebar release levers simultaneously, rotate the handlebar forward onto the seat and using a little tug lift the red release handle up.  You can then use the wrist strap to buckle the stroller into the folded position.  If have a smaller car or you're short on storage you can take the front and rear wheels off (very easily) to make the frame even smaller.
Round-Up:
Retailing for $449.00 the B.O.B Revolution is the perfect stroller for the active parent!  Because the Revolution has the potential to be used from birth –up you won't have to worry about having to purchase another stroller when your child gets bigger.
I had the opportunity to test the Revolution in a number of conditions, from city streets, the mall, hiking paths and the beach and I can honestly say that regardless of the terrain it held its own.  I didn't even notice a different in the push from going from a hiking path to the grass and then to sand.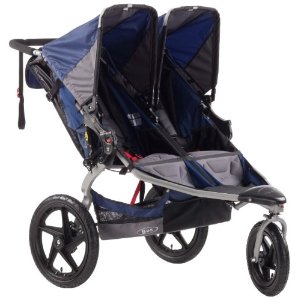 B.O.B does offer a complete line of accessories for the Revolution including:
Handlebar Console – Place snacks, water and cell phone conveniently at your fingertips. The Handlebar Console attaches easily and securely. Includes two water bottle holders and a storage pocket.
Warm Fuzzy – Add warmth and comfort to your child's stroll. The Warm Fuzzy is a padded fleece seat liner that inserts into any BOB Stroller seat.
Weather Shield – The Weather Shield's water resistant design helps to protect your child from rain and wind while still allowing a view of the world.
Infant Car Seat Adapter – The BOB Infant Car Seat Adapter allows you to easily attach leading infant car seat models to a BOB Stroller utilizing the BOB Accessory Adapter feature. Bonus: it folds with stroller.
Sun Shield – The Sun Shield's specially designed mesh screen reduces the sun's harmful ultraviolet UVA/UVB rays and helps to provide a barrier to wind and flying insects.
Diaper Bag – Clips directly to all BOB single and Duallie strollers. Shoulder strap, changing pad and removable waterproof insert included.
Snack Tray- The Snack Tray easily inserts into any BOB Stroller utilizing the BOB Accessory Adapter feature, placing snacks and cups at your child's fingertips. Folds with stroller.
Available in four colors (Orange, Navy, Plum & Black) and also available in a double stroller the B.O.B Revolution SE provides the versatility, functionality, and longevity that parents are looking for.
Pros
Very smooth ride, easy push makes it feel like it's gliding on air.
Front wheel can be fixed or swivel.
Massive canopy
Lots of storage options
Wish List
Single handed recline system
Cup holder included
Dimensions:
Wheel Bass – Swivel mode 25.5", Jogging mode 30.5"
Overall Length – Swivel mode 46", Jogging mode 51.5"
Handle Bar Height – 40"
Overall Width – 25.5"
Interior Seat Width – 14.5"
Folded Length, wheels on: Swivel mode 39", Jogging mode 43"
Folded Height, wheels on: Swivel mode 16", Jogging mode 16"
Folded Length, wheels off: Swivel mode 33", Jogging mode 37"
Folded Height, wheels on: Swivel mode 12", Jogging mode 10.5"
---
*Thank you to B.O.B for sending us this stroller for review*
Related Articles:
---
[ad]