02
Jul
2012
by
Tanya
+
in
Boon Flair Highchair
,
Boon Inc
,
Featured
,
highchairs
,
Product Review
---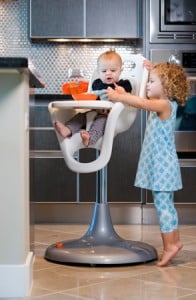 We have featured many Boon products in the past and we can't say enough about their quality, functionality, and unique modern designs.  Boon is committed to creating innovative gear that's still affordable for families and their Flair Highchair keeps true to that mission.
Getting started:
Out of the box the Flair is easy to assemble.  First, you insert the support assembly (the long tube part) into the base and rotate it until it drops into place.  From there you raise the tube to the highest position and place the seat on the seat base and secure with the five bolts provided.  You align the seat base cover and attach it in place with two bolts.  In total you can have the frame assembled in less than 10 minutes.
In Use: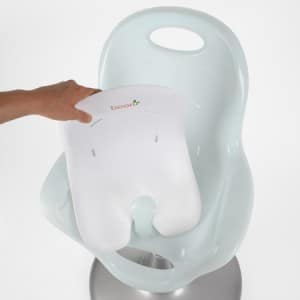 The Flair is a revolutionary highchair, combining innovative features with distinctive modern style. The seat features an optional seat pad which is pre-installed in the chair seat – the pad is used to provide extra support for smaller children and can be removed for large infants and toddlers.  The pad isn't only soft and cushiony but it's also chemical-resistant & waterproof.  Another thing that will give parents peace of mind is that there's no PVC, Phthalates or BPA on this highchair anywhere making it safe!
The seat also features an adjustable 5 point harness for your child's safety.  The shoulder straps can be adjusted to two different heights on the frame as well as the shoulder and waist straps adjust to grow with your child.
The Flair has an adjustable-position, compact, removable tray and TWO tray liners – I love this feature!  Many highchairs come with a single tray liner so I personally love having the extra one so that I can have one in the dishwasher while the other one is cleaned and ready of use.  Yes, you read that correctly, the tray liners are dishwasher safe plus they are small enough that they won't eat up a ton of dishwasher real estate.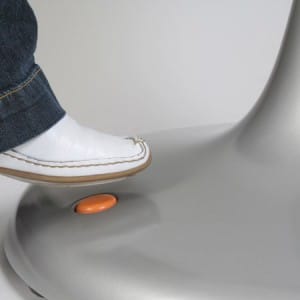 One of the coolest features on the Flair is the pneumatic lift – which is a fancy way of saying it uses compressed air to raise and lower the seat so that you can pick the exact height you want to fit your table.  The seat height can range from 21″ – 26.25" making it suitable for even the highest of tables or countertop breakfast bars.  It's so unbelievably easy to adjust the seat height, to raise simply step on the height adjustment button on front of the base and it will raise to its maximum position (it reminds me a little of a barber chair) and to lower the seat you step on the height adjustment button and push down on the seat until you reach the desired height then release the button.
The Flair glides in any direction on six urethane casters making it easy to move the 28lb chair around (even on carpet) and they will not scratch floors – I have hardwood through my entire house and not a single mark was left by this chair.  When you've placed the chair where you want it you simply press firmly on the foot brake pedal and ensure it's all the way down.  To release just press the break again – so easy!
This is by far the sleekest and smoothest highchair I've seen and the fact that it has no cracks or crevices to lodge food (and other nasty items) means clean-up is unbelievably easy.  Even the biggest spaghetti mess can be cleaned up easily in a matter of minutes.
Round-Up:
Easy to assemble and extremely effortless to use, the Flair's sleek, modern look was a win with my family.  If I could change anything about this chair it would be to have a reclining seat which is great for wee ones.
Available in four colors combinations (Green with white pad, red with white pad or white with blue or orange pad) with a suggested retail of $249.99 and designed for children up to 50lbs or four years of age the Boon Flair Highchair is designed for longevity while also being stylish and functional!

*Thank you to Boon for sending us the Flair for review*
Related Articles:
---