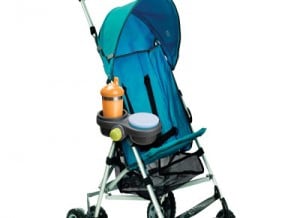 Brica makes travelling with children easier with their growing line of functional baby products.  My personal favorite is the Brica snack pod.  I love this item so much I keep it in my purse so I'm not without it while out with my son.  In my 6 years of parenting no other baby item has pleased me more and I have never had so many other moms ask me about something one of my children have been using.
The Brica snack pod holds a drink and snack and clips on almost any car seat or stroller.  We tried it out on 4 different strollers and 3 different car seats and it worked great with all of them.  My son loves having a snack and drink within reach when we are out on walks, trips to the park, shopping at the mall or the market.  Even if your stroller has a toddler tray with a cup holder the snack pod can be mounted higher up for your own water bottle or an older sibling's drink.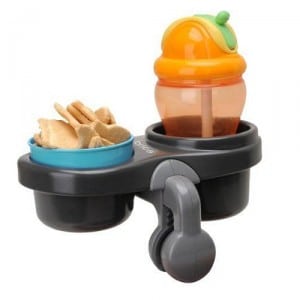 To install you simply turn the knob to loosen the clamp as wide as needed and once in place along the left or right side of a car seat or stroller frame tighten the knob and you are good to go.  The snack pod comes with a perfectly sized dishwasher safe snack cup and lid that fits in either compartment of the pod.  Almost all of our bottles and sippy cups fit in the cup-holder snugly thanks to the nonslip flexible grips.
My favorite place to use the Brica snack pod is on a grocery cart.  Whether I am shopping at a discount retail store, wholesale club or grocery store I always attach the snack pod to the front handles of the shopping cart keeping my little guy happy with a drink and snack he can access on his own.  Before this I would have to stop periodically to get a cup or snack out of my diaper bag making shopping trips longer than needed.
This is where everyone stops and asks what I have attached to the cart.  Other parents, grandparents, store managers and cashiers marvel at this simple device that keeps my baby so content, one shopper even asked if the store rented these out to parents and I think that would be a fantastic idea as long as they wiped them down but luckily we were in a store that sells them and I pointed her in the right direction to pick one up for herself.  For under $15.00 this is my new go to gift to add to all my baby shower and 1st birthday parcels.
Check out Brica.com for more great travel products for babies and children.
Related Articles: