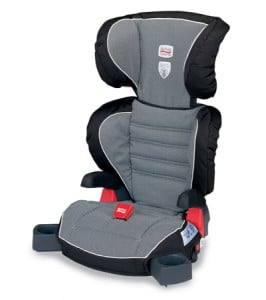 My oldest son recently outgrew his convertible car seat and I was hesitant to graduate him to a belt positioning booster seat for fear he would slide down under the vehicles' regular seat belt –   a term called submarining.  He has hypotonia (low muscle tone) due to a rare genetic abnormality making him more likely to slouch or slide out of a seat.   The Britax SGL belt positioning booster offers a solution to this problem – SecureGuard is a belt clip that easily attaches to the lap portion of the seat belt to prevent the child from submarining and thus creating a fourth anchor point.
Assembly of the SGL is minimal – after removing the packaging and reading the instructions it took only a couple minutes to attach the backrest to the base and even less time to install into our car.  In fact it only took seconds using the Isoflex Flexible Lower Connection System to secure the seat using two clicks and a pull.  I love that the Latch System connectors just click into place without having to pinch and hold a hook and wondering if it attached securely like some of the connectors I have seen on other child restraints.  Then, without needing to climb into the backseat, I simply pulled the strap to tighten the booster in place.  Securing a belt positioning booster this way stabilizes it during a crash and prevents it from becoming a projectile when not in use.  Britax is thinking of the entire family's safety.
This is such an easy to use seat it would be perfect for families that need to move their booster to grandparents' or childcare providers' cars often.  With the colour-coded vehicle belt guides you can feel confident knowing regardless of who is buckling up your child they will be safe.  Another great safety feature of the Britax SGL is True Side Impact Protection that distributes crash forces, shields from vehicle intrusion, contains the head and body, and keeps the head, neck and spine aligned, to limit injury.
Some of the added extras that stand out are: two retractable cup holders, high density comfort foam for a more comfortable ride, armrests, removable back and, to make life easier, one-handed quick-adjust head restraint.  The fabric wipes clean with ease and is completely removable for hand washing if needed, which is a good thing since my son loves the vibrant red of his Britax SGL in Cardinal – I know it will be easy to keep it clean over the years.  We love this booster so much we ordered a second one in fabric option Cloudburst for our other vehicle.

Product Specifications:
Child Weight Limit: 40 – 120 lbs
Height Limit with Backrest:  38 – 63"
Seated Shoulder Height Limits with Backrest:  15 – 21.5"
Dimensions:  L 15" x W17" x H28-35"
Seating Compartment Height:  25.5-32.5"
Seat Depth x Width:  11×13"
Shoulder Width:  12.5 inches
Weight of Booster:  9.72 lbs
Check out The Fit My Child Tool to determine if this Britax seat is the correct match for your child.
Thank you Britax for providing a sample for our review.
Related Articles: