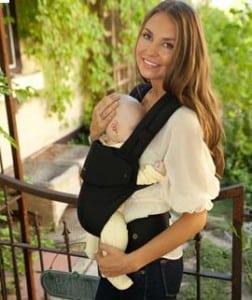 Like that "little black dress" in every woman's closet, a great baby carrier is a must have for every parent. The líllébaby's Nordic Carrier ($100) is a great carrier!
When I first received the líllébaby Nordic Carrier I pulled it out of the box with excitement and began using it immediately. With ease I strapped my daughter to my chest and we were ready to go. After my first test run, I sat down to read the instructions and find out what líllébaby had to say about their carrier. That is when I learned how this carrier is one of the best ones on the market due to its versatile carrying positions! The Nordic Carrier has a remarkable six carrying positions:
front facing with a narrow seat
front facing with a wide seat
front facing out
hip carry (two different ways to do this)
back carry
cradle carry with an infant cradle (insert sold separately)
I have never seen a carrier of this style that has the option to have both a wide and a narrow seat. This feature enables you to carry your baby facing in or out with ease. Thank you líllébaby!
On our second test run I excitedly changed the seat position from wide to narrow and placed my daughter facing outward, she loved this as did I. One of the benefits of having my daughter facing out was she became more interested in what was going on around us, rather than tugging at my shirt wanting to feed.
Shortly after our second test run we had a very icky accident all over the side of the carrier; in terms of cleaning, I happily found the Nordic carrier easy to clean, it dried quickly when hung and was ready to use the next day.
I tried out every carrying position and found all of them to be comfortable and (with practice) easy to put my daughter into and out of by myself. The wide padded shoulder and waist straps help make this a really comfortable carrier. Another feature I really liked about this carrier is the many buckle systems. My daughter is a fairly light sleeper and I have found it difficult or impossible with other carriers to detach myself from the carrier without waking her up. Due to the buckle systems on the waist and shoulders I found it easy to put my daughter down for her nap (when already asleep in the carrier) and still manage to keep her sleeping. Additionally, the Nordic carrier is very adaptable to different body types. I am petite while my husband has very broad shoulders, the carrier was able to adapt to both of our body types easily.
The Nordic carrier has a hood that is sold separately, a feature I would highly recommend. This added feature helps to cover your baby when breastfeeding and also helps to protect the heads of taller babies (about 6 months and up I would guess) from hanging awkwardly when they are sleeping.
Overall I found líllébaby's Nordic carrier to be a great carrier packed with features. I would recommend it to anyone wanting numerous ways of carrying their child from infant to toddler (7lbs/3.2kgs up to 42lbs/19kgs) in a comfortable and stylish way!
Related Articles:
---
[ad]