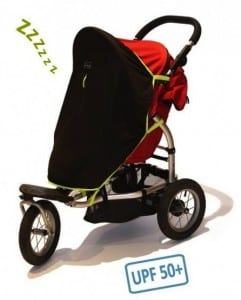 As a parent I'm sure you know people who won't venture out around their infant/toddlers nap time for fear of throwing off their schedule; and you probably know others who continue to do things outside the home during those times hoping that their child will nap while they're out on the run.  My hubby and I fall into the latter category.  While we do try to be home around nap times most of the time, if we have plans or errands that have to be run we will continue to do those things.
Our son is pretty good at napping on the go, but I'd be lying if I said that nap times were the same outside of the house.  He gets distracted by all the things going on around him, he usually ends up napping later than normal and for a shorter period of time, plus I'm always a little concerned that something will happen that will startle him awake.
Well British Mama, Cara, recognized this issue and sought a way to make it easier for babies to sleep while out and about during the day.  Cara created SnoozeShade in 2009 as a way to help baby sleep while running errands.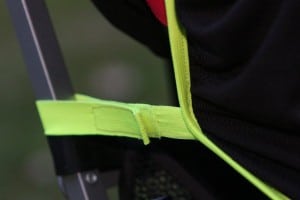 SnoozeShade creates a shady, well-ventilated environment for babies to sleep comfortably and cuts out visual stimuli to encourage alert babies to nod off. This unique universal fit buggy blackout blind fits most 3- and 4-wheel strollers and infant car seats.  We've all been there trying to drape blankets or jackets to shade baby.
SnoozeShade comes in black – which based on testing, this proved to be the most effective and functional in order to block out light and keep baby cooler.  It attaches quickly and easily using Velcro straps and an elasticized edge that can easily stretch over most strollers.
I've used the SnoozeShade a number of times while we were out.  The sensory deprivation allowed our little one to stay asleep for over an hour each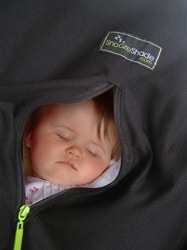 time I used it and despite the shade being black it didn't seem as though he was overheating; which was a little bit of a concern for me on these hot summer days.  The shade has a 'sneak-a-peek' zip opening so that you can check on your little one – which is a really useful feature, especially with a wee one.   I personally didn't use this feature when I knew he was sleeping because he's a very light sleeper and I didn't want to risk waking him.
Concerned that the SnoozeShade will be too bulky for you to carry around?  Don't worry – the shade fits back inside its own mesh bag which fits easily inside any standard changing bag.
Other benefits include:
Made from a double layer of soft dark breathable material it provides a shady and well-ventilated place for baby to snooze.
Elasticized to give baby room to move around without dislodging it.
Proven in laboratory tests to keep the interior of the stroller cooler by half a degree on a hot day
The double layer provides the highest level of sun protection (UPF50+) and protects against 98%+ of the sun's UVA and UVB rays
Protects from mosquitoes, other insects and animals
Recommended by the UK's leading baby sleep expert
One of the best parts of the SnoozeShade is that it fits single, double and triple strollers!  With single seat hoods, simply use one per baby and then you needn't disturb one if the other wakes up.
Our experience with the SnoozeShade was fantastic, it's great for days in the park, at the shops, in restaurants or anytime you have to go out during baby's naptime.
Related Articles:
---