This Summer European baby gear manufacturer Cybex announced that they would be bringing their lightweight, high quality strollers, multifunctional baby carriers and award winning car seats to North America.
Cybex' collection is unique because 3 of their lightweight travel strollers accept an infant seat(Aton – available in early 2010) and carrycot, making it a great choice for birth to 3+ years.
A few weeks ago I received a Cybex Callisto to test.

Installation: Out of the box, all I needed to do to get started was pop the wheels on. Unpacking and installation only took about 5 minutes.
Getting started: Opening this stroller is a breeze. Just unclip the locking latch and lock the frame in place with your foot. To keep everything straight Cybex also includes a great instruction manual with the stroller that shows all of the features and how to use them in detail.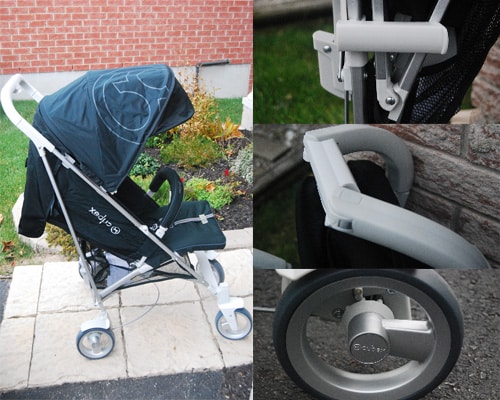 Features: The Callisto is loaded with many great features with the first being the spacious seat. For your baby's comfort Cybex uses a 5-point harness that is covered at the top with a lightly padded headrest. My son loves this! The seat also has a one handed four position recline, which is both convenient and uncomplicated.
The Callisto's canopy is one of the tallest I have reviewed, measuring an impressive 27 inches from the seat to the top. When opened, it can be adjusted to 3 positions and extended with the extractable sun visor. I also like that it detaches at the back to allow air to flow through the stroller. Parents can also remove the canopy altogether by undoing a clip on either side of the stroller.

Moms who like to shop or load their stroller up with stuff may not find the storage on the Callisto big enough. This under the seat basket will hold a medium size diaper bag, but not much more. It is, however, supported by a metal frame, which prevents your stuff from dragging on the ground.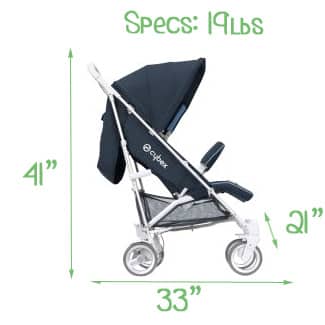 The Callisto offers a very smooth ride thanks to a set of four 6" wheels with real aluminum rims and a rear wheel suspension system. Like most strollers, the front wheels are swivel wheels with the ability to lock for strolling on gravel or uneven roads.
When locking the stroller, there is a one-touch rear brake system that locks easily with just a step. I'm not sure if ours is just stiff because it's brand new, but unlocking does take a bit of work.

Folding the stroller is just as easy as opening it. The handle has a button that together with a switch on the back frame collapses the whole thing forward. I wouldn't call this a one-handed fold, but it is definitely easy enough to do.
For easy transportation, Cybex has added a handle on the side of the stroller. I love this and the fact that the stroller locks when collapsed. Nothing is worse that having your stroller fly open as you are moving it from one spot to another.
The Callisto is a great multifunctional stroller for all parents. It is loaded with many features that make strolling comfortable for baby and easy for mom and dad. I would not hesitate to recommend this stroller to any couple looking for a feature-rich product that pushes nicely and stores easily when not in use.
If asked, I would make 2 improvements, add a cupholder to the side(always) and make it so that the stroller could stand on it's own.
Additional features:
continuous, height adjustable handlebar for more mobility
central one-pull harness system
ultra-light aluminum frame
folded: L41 x W12.5 x H17 inches

price $349 – Available in 4 colors in the United States which are: Chili, Slate, Purple, and Indigo. (shown above)
*Thank you to Cybex for sending this stroller out for us to review*
---