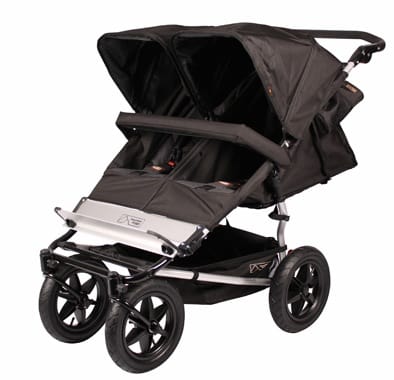 The first thing that I want to say about the Mountain Buggy Duo is that I love this stroller. I love it so much that it is one of my most favorite strollers ever. I have tried a lot of strollers, so that means quite a bit. When I saw the box coming at me from across the street I admit that I was a bit worried. It was huge, scary huge. When I moved the giant box into my kitchen and it filled quite a large space I began to think that there was no way that this stroller was going to work for us. We have very specific needs and one is a rather compact stroller. Happily, once the Duo was out of the box all of my fears went away and I began to see what an incredible stroller it is. The box is quite deceptive, don't let it scare you, because, though the Duo does not collapse into a tiny, svelte little package it is a very narrow, light-feeling double that you can push with 1 hand, or even a few fingers. I know because I have pushed it fully loaded with 2 rather heavy children while carrying another (who is often kicking and screaming) over some very bumpy, broken sidewalks. It glides over anything no matter how much weight I put in it or how it's distributed. I know it's not the recommended usage of the footboard, but yes, I let my big almost 5 year old old sit on it with his 1 and 2 year old brothers in the seats and it still pushed like a dream. Mountain Buggy was recently purchased by Phil&Teds who moved production from New Zealand to China and made a few improvements to the classic Mountain Buggy. Those who are concerned that quality may have suffered from the move, should not concern themselves. The quality is still there and the improvements are really great.
Now for the more precise details:
Set-up
The Duo comes out of the box almost ready to go. In about 5 minutes you can be off and rolling. All that needs to be done is to attach the wheels and the canopies and you're ready to go. The manual runs through everything you need to know very clearly and simply. Though since it's such a straightforward buggy, there's not much that needs explanation. The stroller is quick and easy to assemble as well as to get to know.
Features
The website describes the Duo as a "slim-line side-by-side with all-terrain agility" and that is exactly what you get with the Duo. Perhaps its most attractive feature is that it is a mere 29" wide. And with that 29 inches, you get a really rugged, fully featured stroller that will fit through any door, handle a hearty 55 lbs/25 kg per seat, and has the tires and suspension to roll smoothly over any terrain in the city or the country. What makes for a good stroller out on in the sheep-filled countryside is superbly suited to popping over even the bumpiest curbs and sidewalks or rolling over any mulch-covered playground. The 12-inch air-filled tires and rear suspension make this possible, but the swivel front wheels make turning even in tight quarters a breeze. The wheels can be locked for rolling over very rugged terrain or rougher conditions if needed.
The biggest improvement brought to the Duo by Phil&Teds is the replacement of the singlehood with dual canopies with peekaboo windows that offer a fuller extension and pull-out sun visors. No more two-year-olds pushing the canopy off the sleeping baby, your toddler rides with an unobstructed view while your infant has much more coverage than in past Mountain Buggy models. There is a full recline, so the ride is suitable for a newborn, but one of the great features of the Mountain Buggy is that the seat skins are removable. This allows for the attachment of a carrycot or a car seat adapter while your older child still rides next door in a full-sized seat. For those with twins, the stroller can be adapted to hold two carry cots or a twin carry cot so that both infants can ride together where they will be happiest. The carry cots do have their own canopies, can easily click in and out of the frame and can stand on their own, so that your baby can continue to sleep off of the frame.
Another improvement from Phil&Teds is the harness which is now offers padding on the shoulder and crotch straps with a quick-release clip and safety button closure. The handle is easily adjustable up and down. Another really great feature is the easy-to-use foot brake. Unlike many foot brakes, it is so simple to use that I can actually flip it barefoot. The fold is a 2 step process with the stroller folding flat on itself. The handle can be flipped so that the stroller stands on its own. The Duo also comes with a bumper bar, no longer an add-on accessory, and a very handy bottle holder that very nicely held my bottle of water right where I wanted it.
Use:
The stroller weighs 36 pounds, but it feels much lighter. As I said I was scared that it would be too big and heavy when I first saw it to be a viable option for my family and our ridiculously complicated stroller needs. The day that I planned to give it a test ride I found that it had been moved to the very back of our basement storage room, which meant carrying it a very long way, up the stairs and out to the driveway. Surprisingly it was pretty easy. I lugged it up much more quickly than I expected and unfolded it with ease and that's when my love of the Duo truly began. Carrying it was a bit awkward for me in spots as it does have a long flat fold and I'm not very big, but it really was not the behemoth that I expected it to be. Immediately I noticed how much more streamlined it was than I expected, how nimble it felt and how easily it rolled. Our quick trip around the block turned into an hour-long walk all the way up to my son's preschool and back through our neighborhood. It was so easy to push that I just wanted to keep going.
I've already mentioned that this stroller is narrow for a side-by-side double. The ultimate test for me is will it fit through the narrow old door at my son's preschool. Many side-by-sides have tried and failed to go where the Duo went with ease. We actually sailed right through the door without a problem, not much closer at the wheelbase than the inline we usually go to school in every day and we did not get hung up trying to wrangle the handlebar over the door handle as we always do in the one other side-by-side that we've managed to fit through. I've also already mentioned that it offers an incredible push and a super smooth ride and I truly mean that. The Duo is so easy to push and steer. I was told that I would probably be able to push it with one finger and I'm sure I could. I have no doubt that this stroller will roll over anything in any condition. I tested it fully loaded over our worst block. The sidewalks are so bumpy and broken I usually end up out in the street, but I managed to pop right on over every huge bump even when I was pushing one-handed while carrying my 5-month-old with 60 lbs worth of her brothers on board. My formerly favorite side-by-side does not even come close. We tested the stroller on broken sidewalks, mulch, stones, mud, hills, sand, and grass. It handled all as easily as it rolled over a flat floor. The air-filled tires handle any terrain and the rear suspension evens out all the bumps for a very comfy ride.
I tested the seats with my very large 17 lb 5-month-old daughter, tall and skinny 22 lb 20-month-old, huge and wide 35 plus lb 35-month-old, and well over 40 lb just about 5-year-old sons. All four fit in quite well and seemed quite comfortable. My daughter was only unhappy when she was reclined fully, but that's not the stroller's fault. She was quite happy once I pulled her seat up further so that she could see what was going on around her. Luckily the recline is easy to adjust on the fly, though you do end up with a bit of extra fabric pushing into the seating area when you adjust it up with a child in the seat.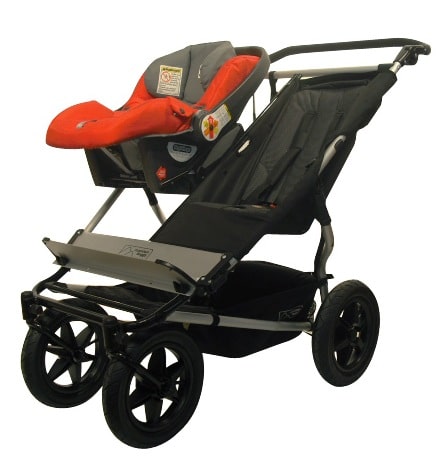 The only time I had a bit of a hard time with the stroller was the first time I folded it, but it was mostly my fault. Once I looked over the directions and tried it again it was quite simple. It's very easy to fold and unfold with a two-step process and it does have a locking strap to secure it, manual not automatic, but it is easy to get to and easy to clip and unclip. Another test that it passed impressively was the will it fit in the back of our minivan test. We have 4 car seats in use, so all seats are in the upright position and the space remaining is not that big. Quite a few strollers do not fit or will only fit with the wheels removed, which is not something I'm willing to deal with when toting 4 children in and out of the car. I'm willing to take a stroller in more than one piece, but I am not willing to attach any wheels, no matter how easily they go on and off. Happily, the Duo does fit. It's tight, but it fits in the space with its wheels on, though I doubt anything else would fit in with it.
My only complaint really is that it should come with a rain cover. I actually think all strollers, other than a very inexpensive umbrella stroller that is not meant to go anywhere further than a quick trip through the mall, should come equipped with a rain cover, especially when that stroller is expensive and well-equipped for all other conditions. People who use their strollers are going to get caught in the rain at some point. People who really use their strollers, especially those who rely on it for daily transport, go out in them no matter what the weather and need those rain covers in wet, windy, and cold conditions. That really is my only complaint. As I said at the start, I love this stroller. It may be more expensive than some other strollers, but it is well worth it. You will not find a better ride for your child or a better push for yourself. You really can take this stroller anywhere.
There are several accessories available for the Duo in addition to the Carry Cots and the Storm Covers. The seats can be outfitted with their 2 color reversible fleece or reversible lambswool/micro-suede seat liners or the very warm and toasty-looking sleeping bags for cold weather. Also available are bottle holders that hold up to 1.5 liters, a sun cover, a tire pump and a travel bag. The stroller itself is available in six colors and retails for $679. – Kiersten, Staff Writer
Likes:
Incredible Push & maneuverability
Narrow 29" width
Air-filled tires & Suspension
Independent Canopies with pop-out visors
Adaptability for newborns with carry cot or car seat
Dislike:
Lack of included rain cover
---