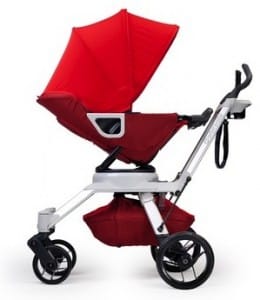 Orbit strollers are well known for being a must-have piece of celebrity gear.  When designing this system, Orbit created a product that doesn't follow the norm in baby gear.  From the disc they use as the base for the whole system down to way that the stroller opens/collapses, everything is designed to be convenient for parents to use.

For the last few weeks we have been testing the new G2 and it has been a lot of fun.
Out of the box the stroller was ready to go.  The only installation needed was to put the seat onto the frame, and slide the storage basket into place which took seconds – literally.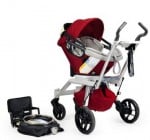 Our G2 arrived with the Stroller Frame and Stroller Seat($750).  New parents who are looking to use the system from birth can purchase the Travel System which a 3-piece "starter kit" that includes the Infant Car Seat, Stroller Frame, and Car Seat Base($900).  Once your child gets older you can upgrade them to the stroller seat, which will accommodate them until they are 40lbs.
Features: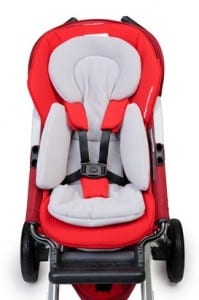 For comfort, the stroller seat has a padded 5-point harness, reversible padded insert and an adjustable foot rest.  Orbit has designed the seat to resemble an egg, which offers a natural contour for your little one.  One thing that parents will notice with the G2 is that Orbit has added little touches that make strolling with your child that much easier.  Two small features that I like are that the seat has mesh pockets at the side for toys and that the harness has velcro to keep the padding closed and in place.

New for 2010, the G2 also comes with snack tray that is designed to hold a snack and sippy. During our test we found that our impatient toddler was able to flip the snack tray inwards.   It's a great tray that is spacious, but it needs a bit of additional support to keep it from moving.

For warm days Orbit has designed a state-of-the-art ventilation system located at the back of the seat.  This panel is located is at the base of the seat and can be unzipped when needed to offer some extra airflow.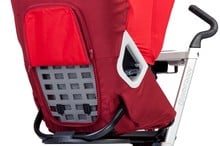 A feature that is unique to the Orbit system is the seat's ability to be rotated 360 degrees.  This has come in handy a million times while we were out as it allows your child to view the world from the side as opposed to just front or back.  I've used this while out at dinner and at the mall when my youngest.  Changing his position without having to remove the seat is very convenient.  This feature also gets the attention of other parents as well.  I been stopped many times and asked to demo the stroller when other parents see me turning the seat.
The G2's seat also has a full one-handed recline to provide comfort to a sleeping child or infant.
The canopy on the Orbit is hands down the BIGGEST I've tested.  It's massive and almost covers my son completely in the rain or on a sunny day at the park.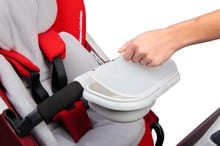 New for 2010 this stroller has been designed with an innovative Quadshock suspension that gives your baby a smooth ride & parents hassle-free no-pump tires.  Caregivers of different heights will love that the handles on the G2 are adjustable to accommodate everyone.  Ranging between 41″ and 46.5″, this stroller will adapt to both the smallest or tallest parents.  Also located between the handlebars is a cupholder that does a great job keeping your child's sippy or a bottle of water in place.  Earlier versions of this stroller had 2 cupholders.  For us, this would be a more convenient setup as I am always out with 2 kids who aren't always keen on sharing their drinks.

Something that has impressed me this stroller is the washability.  While out for lunch, my son spilled chicken on the seat.  He then followed it up with some rice and his drink.  I went grey.  The last thing I wanted was stained seats – especially on such a beautiful stroller.  Once home, all I needed to do was unzip 3 zippers, remove 4 velcro strips and unlatch 3 clips and the seat was out.  Orbit recommends you place it in a pillow case, wash with cold water and air dry.  I did this and was pleased to see that all of the stains came out, the seat looked brand new again and it all went back in just as easy as it came out.  In the 5 years I have been testing strollers, this was the easiest stroller to clean – HANDS DOWN.
Storage: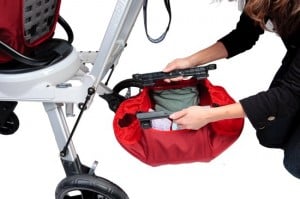 Orbit offers the most unique storage I have ever come across.  Under the stroller is a 'cargo pod' that can be removed for your convenience.  It isn't the biggest storage basket on the market but it will hold what you need if you organize it before hand.  Once out, the two handles, which interlock to slide the unit underneath the stroller, open so that you can put your stuff in.  Either end of the pod, has mesh pockets for 2 sippy's and interior pockets to keep you money or snacks. There are also shoulder straps on the pod for parents who need to carry a child and the their gear.
Parents who need more storage can purchase Orbit's Pannier storage baskets to clip onto the side of the stroller.  Designed to make shopping a breeze, each Pannier fits a standard paper grocery bag.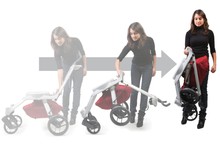 Collapsing the stroller is easy to do and also a one-handed action.  It does fold with the seat on, but is much more compact if loaded into your vehicle in 2 pieces.  If you forget how to do it or lend the stroller to grandma or grampa for the day, additional instructions are printed on the base.
During our test, this stroller went everywhere and it performed well under all conditions.  I would recommend this stroller for the mall, park and market.  It is also a great stroller for traveling because it folds down so nicely.
For years I have been dying to test the stroller that I've seen being pushed by almost every celebrity in Hollywood and I am happy to say that it lived up to the reputation it has earned.  The Orbit stroller has been cleverly designed to meet all of the needs of a parent in a functional and efficient way.
Specs:
comes with Cargo Pod, reversible infant insert, detachable support bar, and detachable snack tray
weight rating: for use from birth to 40 lbs (18 kg)
Stroller Seat G2 dimensions: interior height: 21 in; interior width: 13.5 in
Stroller Frame G2 dimensions: handlebar heights: 40-46.5 in; width (unfolded): 24 in; folded: 32.5L x 15.5W x 13H in
Stroller Seat + Stroller Frame folded together: 32.5L x 15.5W x 14H in
product weights: Stroller Seat: 10 lbs (4.5 kg); Stroller Frame: 16 lbs (7 kg)
---
[ad]