Atlantis is a beautiful sprawling resort set on Paradise Island in the Bahamas. Comprised of 5 hotel towers and a townhome complex, this amazing vacation spot caters to vacationers of all ages.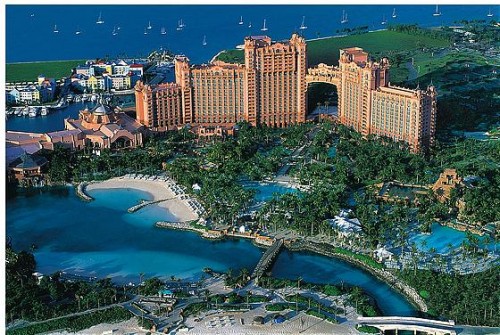 My husband, two sons and I recently had the pleasure of spending a week at this luxury resort.
We chose Atlantis because it had something for every member of our family. Watersports for my husband, lots of swimming activities for my boys and a beautiful beach for mommy. While there are many hotels in Nassau that offers some of these same amenities, we chose Atlantis because there was so much in one place.
When you are traveling with 2 kids, the more there is in a small radius, the better.
Of the 5 buildings we chose the Royal Towers because they are centrally located to all pools and most restaurants. Because we had a double stroller with us this was a good choice. This is a newer section of the resort and most areas are accessible by stroller. When navigating through the Coral and Beach Resort section we found ourselves getting stuck in areas that were only accessible by stairs.
Accommodations: Our ocean view room had 2 Queen beds and a small balcony. It was fairly spacious and decorated in Caribbean decor. The bathroom, however, was in need of a make-over. The forest green granite on the counter was faded from years of use and the extra small bath tub was etched from a bathmat.
My husband liked the one serve coffee machine and that our room was equipped with a nice 32″(aprox.) flat screen TV.   I liked that it was far enough off the ground that my boys couldn't get to it. Having the option to check our account from our TV was a nice convenience. You can also order pay-per-view movies or in room Internet from the same helpful menu.
I highly recommend the oceanview room. From our window we could see clear across the resort. Many of the pools, ponds and waterfalls were visible from our perch, something we would sit and marvel at every night.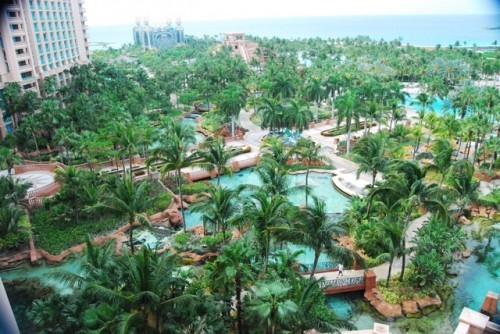 Kids: Atlantis was made for kids. While kids are welcome in all of the pools, there are 4 that cater to them. We spent most of our time at the Splashers pool. This Mayan-themed water play structure features three tube slides, a side-by-side slide, cargo nets and rope bridges for climbing, water cannons, fountains and water wheels for endless soaking. As an added bonus a 320-gallon bucket dumps a massive amount of water on anyone within a 25 foot vicinity.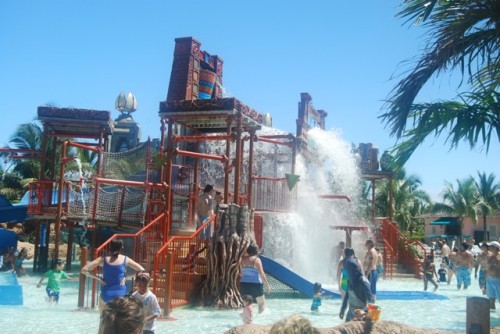 We loved that the adjacent pool was heated, which made getting both kids into the water a dream. Parents who can't pack everything will like that Atlantis provides complimentary life jackets for those of all ages.
For beach going families, Atlantis has a beautiful white sand beach that stretches from one end of the resort to the other.  Our boys had a blast playing in the sand, and floating in the calm waters at the Cove beach.   It was also nice that lounge chairs, umbrellas, beach towels and a life guard were provided to make our morning both safe and comfortable.
For parents who want to spend some time alone, Atlantis offers an adventure club(AKA). Located in the Royal tower, this high tech space caters to kids of all ages. Starting at 9am, kids 3- 5(potty trained) and 6-12 can participate in scheduled sessions. The smaller kids are offered programs like Pirate Treasure and behind the scenes dolphin tours, while the older kids get the chance to cook, craft and put on stage shows. Because we had such good luck with our son in the kids club onboard our recent cruise we decided to pay the fee and see what the Adventure was all about. The staff at AKA is very friendly. For your child's security they take your picture and make you sign the child in and out. Your little one is also given a security bracelet that will go off if they leave the area.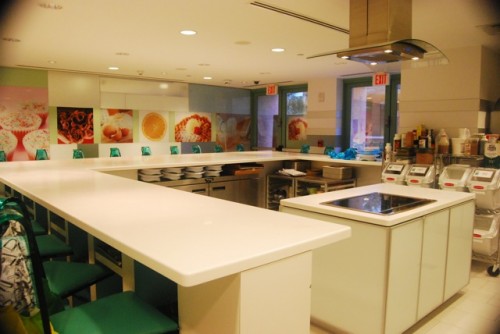 While very few amenities at Atlantis are free, the resort does offer a good value when you do have to pay for something. Both sessions (9a-12p, 1p-5p) of the 3-5 kids club were $45/child. Cooking classes for 6-12 were $65 as was the evening session for all ages 6pm-10:30. Even though we though these prices were a but steep, parents were lined up at the door the night we went to pre-register. Some with 2 and 3 kids.
Dying to see what all of the hype was all about, I dropped by the next day at 5pm for the parent tour and was impressed with their facilities. Atlantis has thought of everything when creating this space.  For younger kids there is a story room complete with a talking tree, a princess room, a shopping store that is stocked with more play food than you have ever seen and LEGO room for your little builder.  For older kids there is a high tech craft room, games room, computer lab and an beautiful kitchen.  There are also TVs in the bathroom mirrors to remind kids to wash their hands.
Marine Habitat: Atlantis' amazing Aquarium lets you get up-close views of more than 50,000 marine animals from over 200 species. Walking through the underwater tunnels was exciting at any time of the day. The dig allows visitors to meander through passageways and observe stingrays, moon jellies and lionfish. We did this every night before and after dinner to avoid the crowds and on our way to the pool in the morning.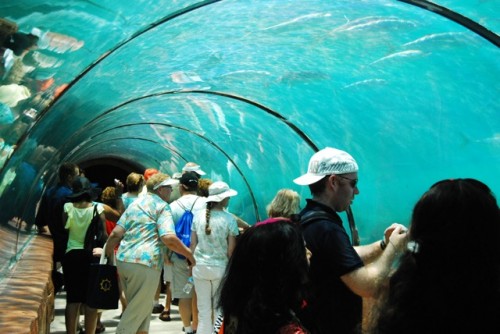 During a trip from one side of the resort to the other, we discovered the Predator Lagoon Tunnel.  Located below the Lagoon Bar & Grill, outside the Coral Towers, the Predator Lagoon is a somewhat hidden gem that features predominately deeper reef fish like Sharks, barracudas, rays, sawfish and giant groupers. Our boys loved walking through the 100-foot clear underwater tunnel submerged in the lagoon to get a look at these amazing fish from all sides.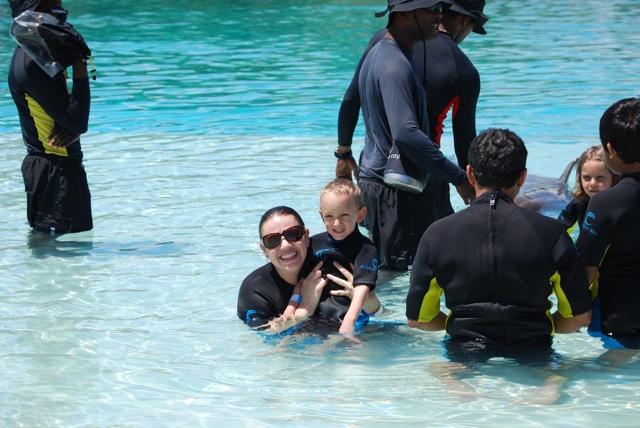 We also had the opportunity to swim with the dolphins($140/person).  My son was super excited about this.  After getting suited up in wetsuits and watching a 20 minute informational video we were escorted to the water where we met our new friend Toni.  During our 20 minutes or so with Toni we got to feed her, kiss her and pose for pictures.  Both of the instructors were excellent about teaching us about the breed and their facility.  Our dolphin was actually rescued from the Louisiana Aquarium after Hurricane Katrina.
Food: While meals at Atlantis are pricey, many of the prices are on point with some of those we have seen at other resorts. But for families, eating here can add up quickly. Before you arrive you will be offered a meal plan(breakfast & dinner) if you book your vacation through Atlantis directly. If you are traveling with children under 6 the meal plan is free if the parents choose to take it.   I highly recommend this for families who have kids between 4-6 as the resort charges half an adult rate for kids 4 and older at their buffet restaurants.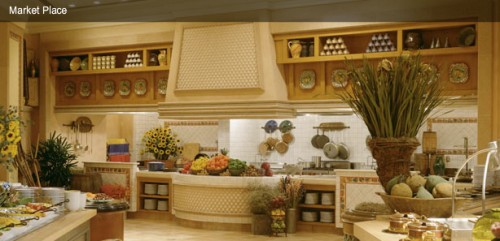 We liked that Atlantis had restaurants for families in all price ranges, but were disappointed when many of them weren't open because it was low season. Nothing is more frustrating than walking from one end of the resort to the other just to find out that the restaurant is not open.  Notable favorites were Marketplace Buffet, Murray's Deli, Carmines, Bimini Road and Johnny Rockets.
Atlantis is definitely a destination that we will return to in the coming years and while it was great for us and the kids, it would also be perfect as a 2-3 day mommy and daddy getaway as well!
Related Articles:
---